Across The Hall
(2009)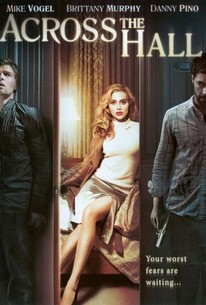 AUDIENCE SCORE
Critic Consensus: No consensus yet.
Movie Info
An expanded version of his 2005 short film of the same name, director Alex Merkin's feature-length noir thriller follows the tense stand-off between a young man, his unfaithful fiancée, and his best friend. Terry's fiancée, June, is having an affair. After following June to a run-down hotel on the far side of town, Terry quietly rents a room across the hall. With a bottle of whiskey and a loaded gun, he calls his best friend, Julian, and spills his guts. Realizing that it's only a matter of time before Terry goes off, Julian begs his friend to remain calm long enough for him to get to the hotel and diffuse the situation. Cloverfield star Mike Vogel appears opposite Brittany Murphy and Danny Pino in a film penned by Merkin and Jesse Mittelstadt -- the same co-writers who collaborated on the original short.
Critic Reviews for Across The Hall
All Critics (1) | Top Critics (1) | Fresh (0) | Rotten (1) | DVD (1)
. Merkin tries too hard for stylistic flourishes (as the hyper set-designed, claustrophobically seedy hotel underscores) and winds up almost sinking the noir-ish tale he's telling.
Audience Reviews for Across The Hall
This movie was okay....very obvious as the concept prolonged itself gripping for suspense.There was a certain kind of poetic justice in it.
Pete Skeris
½
Across the Hall delivers some thrills and a few enjoyable twists, but this movie leaves something to be desires along the lines of dialogue and acting. Brittany Murphy is good but the other two guys could have brought a lot more emotion (and realism) to their characters. My favorite part of this movie was the storytelling technique, jumping through time to reveal a few twists that make you say "Wait, so that means that ...... the whole time!" I can't tell you what happens, you'll just have to see for yourself. All in all, it's an average suspense film but I would probably see it again.
Jonny Priano
This movie was a huge mess. The plot was so messed up. All the characters were incapable of rational decision making. Why didn't they call the police? Why did June stop that man in the hallway? Why did Julian tell Anna those things? I don't know. The writing definitely needed some improvement. It's seems like ALL of what happened in the film could've been avoided if only the people weren't so stupid. I don't understand the timeline of the film. The way the scenes were put together was so odd. It kind of seemed like Memento except Memento was able to pull it off, this film was not. The scenes were out of order, but not in like a specific order, the scenes were just randomly put together. It made everything pretty hard to follow. The acting wasn't too bad, but the script was pretty lame. Mike Vogel was awesome. It was just a weird movie overall. Not sure what the director was trying to do. I also don't like the music selection within the film. The Piano Sonata No. 14 in C Sharp Minor by Beethoven (I only know the name because I listen to it while I sleep), was a bad choice for this movie. It just seemed really out of place.
Across The Hall Quotes
There are no approved quotes yet for this movie.
Discussion Forum
Discuss Across The Hall on our Movie forum!