The Final
(2010)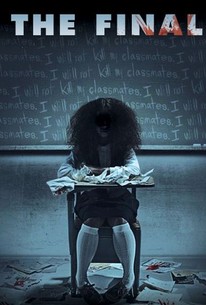 Movie Info
A suicidal high school outcast plots with his misfit friends to seek vengeance against the popular kids who revel in making their lives a living hell. Taking his cue from the Han Dynasty and a steady diet of sadistic horror films, Dane plans a party his tormentors will never forget. When the targeted teen inherits a secluded lake house from his late uncle, he recruits fellow rejects Jack, Ravi, Andy, and Emily in throwing a party that no bully will walk away from unscarred.
Critic Reviews for The Final
Audience Reviews for The Final
½
It was more scary and brutal watching Finding Nemo then this movie. I like the premise of the movie but executed poorly.
Film Crazy
Super Reviewer
I love doing reviews on movies because some of them are so under rated and people turn away from these types of movies because of it. Main reason I am here on RT, I see a lot of bad reviews, so I would at least like to say, give this a chance if you can stomach a low budget movie. The story line is typical high school payback against bullies, but if you were one like many to be picked on, you will love this movie. Let The Torture Begin!!
Shawn Montague
Super Reviewer
A decent idea but not done to it's full potential. A cross between Heathers with Hostel, without being as gory. Good message though, you start off cheering for one side but then feel sorry for those held captive. Not bad for a low budget horror.
The Final Quotes
There are no approved quotes yet for this movie.