7 Days (Les 7 jours du talion)
(2010)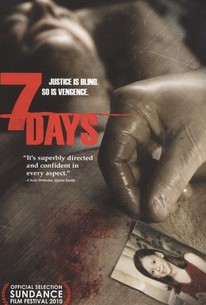 7 Days (Les 7 jours du talion) Photos
Movie Info
Bruno Hamel, il a 38 ans et il est chirurgien. Avec Sylvie, sa conjointe, et Jasmine, sa fille de 8 ans, il habite heureusement en Drummondville. Jusqu'à ce que Jasmine, par un bel après-midi d'automne, soit violée et assassinée. Dès lors, l'univers de la famille Hamel bascule. Mais lorsque la police arrête le meurtrier, un terrible projet germe dans la tête enténébrée de Bruno; il va s'emparer du monstre et lui faire payer. Le jour de la comparution du meurtrier, Hamel, qui a minutieusement préparé son coup, kidnappe le monstre, puis transmet aux autorités policières un message laconique: celui qui a violé et tué ma petite fille va souffrir pendant 7 jours, après quoi il sera exécuté. Ensuite seulement, je me rendrai.
Critic Reviews for 7 Days (Les 7 jours du talion)
Audience Reviews for 7 Days (Les 7 jours du talion)
A gut-wrenching and extremely uncomfortable drama that follows a man yearning for revenge and doing things he could have never imagined himself capable of doing, and while it is surprisingly moving, it nevertheless goes a bit too far in its poor, shallow symbolism.
Carlos Magalhães
Super Reviewer
½
An emotionally dark and brutal movie, but with the over extended silences and poor camera work the only person that feels like they are being tortured is the audience!
Film Crazy
Super Reviewer
½
If you go into this expecting an extreme torure-porn gore flick you will be left disappointed. This is not a horror film, it is disturbing thought-provoking drama about a father who kidnaps the man responsible for the rape and murder of his daughter and plans to torture him over a period of 7 days. The film is grim and has a cold realistic atmosphere throughout with no musical score and little dialogue. There are only three moments of physical torture to endure, though they are not very gory they still are brutal and painful to watch. But the pacing of the film was quite slow and the ending was unsatisfactory, but the acting was very good all-round.
7 Days (Les 7 jours du talion) Quotes
There are no approved quotes yet for this movie.