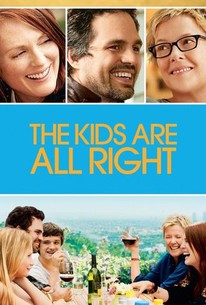 The Kids Are All Right
2010, Comedy/Drama, 1h 44m
228 Reviews
50,000+ Ratings
What to know
critics consensus
Worthwhile as both a well-acted ensemble piece and as a smart, warm statement on family values, The Kids Are All Right is remarkable. Read critic reviews
Where to watch
Rent/buy
Rent/buy
Rent/buy
Rate And Review
The Kids Are All Right Photos
Movie Info
Lesbian couple Jules (Julianne Moore) and Nic (Annette Bening) have been together for almost 20 years and have two teenage offspring named Joni and Laser, who were conceived via artificial insemination. Unbeknown to their mothers, Joni and Laser seek out their biological father, a restaurateur named Paul (Mark Ruffalo). Complications arise when the teens bond with Paul and invite him into their lives.
News & Interviews for The Kids Are All Right
Audience Reviews for The Kids Are All Right
There's nothing interesting or funny about this. A liberal propaganda push that as usual failed to impress the public, but the "critics" from the progressive sites sure loved it.

This film is a perfect portrayal of how expansive emotion and authentic realism can still be made in modern-day American cinema. Julianne Moore and Annette Bening shine in their roles as Nic and Jules, lesbian mothers raising a teenage son and a teenage daughter. Both wives used the same sperm donor for both kids and when their eldest, Laser, reaches age 18, he decides to search for his biological father. This is something his sister refused to do when she turned 18, for fear it would hurt their mothers. The siblings eventually meet their biological father, Paul, and a deep friendship forms between the three. Paul also meets their mothers after they become aware of the situation, and there are mixed feelings between the mothers regarding Paul's presence in the lives of their kids. The Kids Are All Right is a witty and compelling dramedy that makes strong statements about relationships and isn't afraid to make you shed a tear, showing that all marriages have their faults, regardless of gender.

Annette Bening gives a stunning performance, but it's also a mix of situations and a high level of authenticity and tension that allow for The Kids Are All Right to shine. It is an enjoyable, and ultimately, heartwarming watch.

While this movie certainly has a very talented cast and some good writing with moments of warmth and insight into the nature of this very different type of family, but at the same time it is a movie that's just not as good as you'd probably imagine. While I did like Nic's arc of dealing with her insecurities when seeing her children searching for their biological father, I think the movie is pretty much exactly everything that I expected it to be. Mark Ruffalo's character, Paul, brings out an excitement in the family that hasn't be felt for years, he's connecting with the kids and with Jules and Nic isn't exactly as in love with Paul as everyone else is. Jules and Paul end up having an affair as Jules feels that Nic has been neglecting her. So it's very predictable fare, to me at least. Especially when the movie becomes much more about Jules and Paul's relationship rather than it being an exploration on unlikely families and everything that comes along with being the product of a sperm donation. It becomes more of a predictable romance drama. So I thought that was a problem. Another thing is that Nic's character, and the way she's written, makes it very hard to like her. Certainly, a great character doesn't need to be likable for you to understand her motivations. But Nic really comes across as insufferable person to be around. She's a person who will come to a conclusion on a person from having talked to them once for 15 minutes. She's judgmental for absolutely no reason and, again, that could be her insecurities taking shape but the way Annette Bening, a very talented actress, portrays the characters makes it very hard to see that she's really hurt. She doesn't capture that vulnerability that a parent feels when she feels that her kids don't need them anymore. She doesn't capture that at all and I think it hurt the movie because, by the end, you're not really satisfied with the ending because Nic was so insufferable. Granted, the main theme of the film is the importance of family, no matter how strange or different it may be, and I suppose its execution of this concept is done really well. Not to mention that the last 20 minutes are sentimental and slightly melodramatic. Not that melodramatic, it was far more sentimental. I do think the cast is great however, even if I have some issue with Annette's portrayal of Nic, and they take a script with some flaws and make it better than it probably read on paper. And I don't mean to say the script is bad, because it's smart, well-written, but that doesn't mean there aren't problems with it. The switch from family drama to a predictable romantic drama was probably the worst part about it for me really. Nic is also an insufferable character to watch, to the point where, at points, I just didn't wanna watch the movie anymore. I do blame that on the script, and partly Annette Bening. I still think this is a damn good movie. It isn't hilarious but it has the right amount of comedy to contrast with the drama. I just think it's a movie that the reviews pretty much overrated. It's good, but it's not THAT good.
See Details