Lucky
(2010)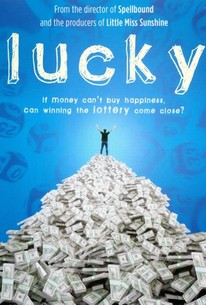 Movie Info
Americans spend $62 billion each year on lottery tickets, and every time someone buys one they likely imagine what their life would be like if they suddenly won a multi-million dollar prize. But the dream and the reality are often very different, and filmmaker Jeffrey Blitz offers a look into the lives of several folks who won big with unexpected results in this documentary. In Lucky, we meet Quang and Mai Dao, a couple from Vietnam who won over $22 million after settling in Nebraska, and have struggled to hold onto the values and work ethic that first brought them to the United States. Kristine and Steven White won a $110 million prize in the Pennsylvania lottery and found it seriously impacted their friendships and their identity, while they were also inundated with letters from strangers asking for a share of the money. William "Buddy" Post III won $16 million, but lost most of it through poor money management and was nearly killed by his own brother over a financial dispute. Robert Uomini still teaches math in California after winning $22 million though he can now indulge his passion for sports cars, and James Gatzke, who was near the end of his rope, got a second chance at life when an Illinois lottery ticket paid off to the tune of $5 and a half million. Lucky was an official selection at the 2010 Sundance Film Festival.
Audience Reviews for Lucky
An interesting look at lottery winners and what happens to them afterwards. The problem is that nothing seems terribly surprising. A lot spend money on crap that they don't need. Others fall out with wives, friends and family over the winnings. Perhaps we didn't need the documentary to tell us that.
John Ballantine
Super Reviewer
In my opinion, The title of this documentary should've been called "Blessed" I know luck is a HUGE part of winning but I think when you win you are blessed.Great documentary on the up's & down's of people who won the lotto & 1 lady who plays daily hoping to win.This a documentary you should definitely check out
Brody Manson
Super Reviewer
Lucky Quotes
There are no approved quotes yet for this movie.