The Oath
(2010)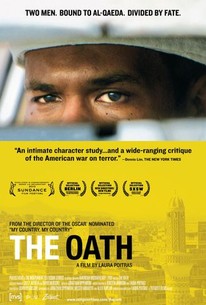 Movie Info
"The Oath" tells the story of two men whose encounter in 1996 set them on a course of events that led them to Afghanistan, Osama bin Laden, 9/11, Guantanamo, and the U.S. Supreme Court.
Critic Reviews for The Oath
Audience Reviews for The Oath
9/3/15 Sundance Doc Club A very interesting look into the other side in our war on terror. The film makers were able to give the viewer a detailed look at the lives and thought processes of Arab jihadist. Informative and thought provoking.
Nick Ueber
½
While definitely a very good and thought provoking documentary, I don't think it's ever great. It definitely does a great job at making Abu Jandal, bodyguard of Bin Laden, into a complex individual with complex emotions. I don't want to say they humanize him or make you empathize with his past, but the movie doesn't make him into a villain either. They present his story without taking sides or being preachy. I think the real meat of the story comes with Salim's trial and how he's in the situation that he is in (with the trial, despite having won a historic trial against the Supreme Court and Congress creating a new law after this case to SPECIFICALLY create new fresh charges against him). That's definitely the most striking thing about the movie, the U.S Congress passing a new law that would make sure this guy has a trial, however fair (or constitutional) or not. It's even more striking that this law was passed for someone who was just Bin Laden's driver (and not involved in any terrorist activities, allegedly) when there are much bigger fish to fry including Abu Jandal. Again it's really a very good documentary film, but I don't know what it was missing that only made this a really good, and not a great, movie.
Jesse Ortega
Super Reviewer
2011 Cinema Eye Honors in New York Wednesday night, while Laura Poitras received the Outstanding Achievement in Direction award for her work on "The Oath,"
Scott Rice
The Oath Quotes
There are no approved quotes yet for this movie.
Discussion Forum
Discuss The Oath on our Movie forum!