The Lottery
(2010)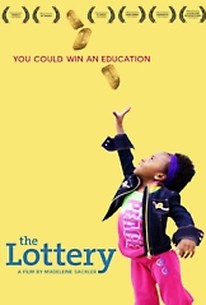 Movie Info
"The Lottery" is a feature length documentary that explores the struggles and dreams of four families from Harlem and The Bronx in the months leading up to the lottery for Harlem Success Academy, one of the most successful charter schools in New York. The four families cast their lots in a high stakes draw, where only a small minority of children emerge with a chance at a better future.
Critic Reviews for The Lottery
Audience Reviews for The Lottery
The commentary by Karl Willingham (56 minute marker) broke my heart. "No Child Left Behind," seems to be leaving countless numbers behind. So very sad.
Matthew Bourne
½
Makes me grateful to live in Anchorage with its very progressive charter school system. I know that there are groups that oppose charter schools but I was stunned to witness how furiously some will defend the status quo.
Andrea Egg
Plain and simple...children deserve a quality education no matter their income level, race, ethnicity, family background, location of their home, etc. How are we suppose to grow a flourishing future for our families, our communities, and our country without educating our children?
Alice Schlegel
The Lottery Quotes
There are no approved quotes yet for this movie.
Discussion Forum
Discuss The Lottery on our Movie forum!