The Barbarians
(1987)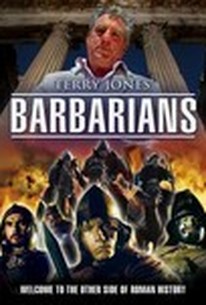 AUDIENCE SCORE
Critic Consensus: No consensus yet.
Movie Info
The professional wrestling world's battling "Barbarian Brothers" are featured as the heroes in this sword-and-sorcery fantasy film. They're out to rescue their lovely queen and retrieve a magic ruby, stolen from them years before.
Rating:
R (adult situations/language, nudity, violence)
Genre:
,
Directed By:
Written By:
In Theaters:
On DVD:
Runtime:
Studio:
Media Home Entertainment
Critic Reviews for The Barbarians
There are no critic reviews yet for The Barbarians. Keep checking Rotten Tomatoes for updates!
Audience Reviews for The Barbarians
Cheese factor-high, gore factor-super high, violence-main reason for R-rating besides some other factors-This movie is an A+ in my book of all-time B movie films. On the surface, yeah, it's another Italian spaghetti exploitation of Conan the Barbarian. However, this movie is a true diamond in the rough for action-adventure enthusiasts who also like their main characters to be able to kick butt and engage in some funny repartee with their antagonists. I have to tell you, there are some seriously dorky, but hilarious, moments packed in this movie. You get a nice balance of blood and guts, a twisted love story, a nice reunion, mysticism, and good old-fashioned comic relief. The Barbarians is that good.
Doug Bland
Twin orphan brothers, Kutchek and Gore (Peter and David Paul), who are adopted by a tribe led by Queen Canary (Virginia Bryant), are kidnapped as children and forced into slavery after the caravan they are travelling in is ambushed by Lord Kadar (Richard Lynch) and his men. Kadar is in search of a rare ruby in which Queen Canary possesses, something she is not going to give up easily. In the midst of their ambush, she sends the ruby away with one of her tribesmen and succumbs to Kadar's wishes if only he would spare the lives of the two orphan brothers. He agrees and puts the brothers in his prison to be trained for future battle on themselves. Over the years, Kutchek and Gore grow to enormous proportions and are pitted against eachother with only a mask to shield them. They soon discover who they are and escape, finding their people, a mysterious young woman in Cara (Eva La Rue) and eventually reaching Canary, who is locked up in Kadar's harem. Okay, so the plot is a jumbled mess, but the film was highly entertaining. Peter and David Paul starred in a string of low-budget titles, each with it's fair share of horrible acting and idiotic dialogue. But, you know what? It works for the two and The Barbarians gives us some zany scenes, equipped with fantasy-based monsters and exotic nude women. The majority of the film has the brothers arguing amongst eachother which pretty much is it's main comedic element. Michael Berryman also throws in some comedic chops as the Dirtmaster, the one who trains Kutcheck and Gore while they were imprisoned in Kadar's lair. His run-in with the dragon, which appears in one of the scenes, had me laughing long after the credits were rolling up the screen. But, what really stands out in this film for me was the soundtrack; a mixture of bad eighties German keyboard pop with some mighty trumpets. Yes, it was bad, but that damn arrangement had me so into the film even more. The Barbarians is some good campy fun.
Rob Cisneros
This campy, hilarious classic will leave you smiling time after time. A superb soundtrack, tons of memorable quotes, and the impossible to resist Twin Pack, Peter and David Paul, make for a wonderful adventure tale that shines despite its plot holes, bad acting, and shoddy editing. May be the greatest B movie of all time.
Kyle Koschalk
The Barbarians Quotes
There are no approved quotes yet for this movie.