Beyond The Law
(1968)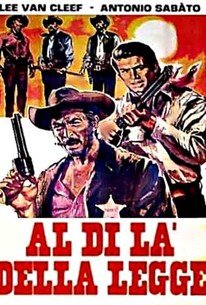 AUDIENCE SCORE
Critic Consensus: No consensus yet.
Movie Info
Unlike Clint Eastwood, who in the 1960s was cast as the Man With No Name, Beyond the Law star Lee Van Cleef has a name, and a very functional one. Van Cleef is known to one and all as Bandit Turned Sheriff. Actually, a more appropriate cognomen would be Bandit Turned Sheriff But Still a Bandit, since Van Cleef only pretends to reform so that he can steal a cavalry payroll. Since it's hard to watch Beyond the Law with a straight face to begin with, the producers wisely decided to turn this spaghetti western into a semi-comedy. Released in Italy in 1967 as Al Di La Della Legge, Beyond the Law was distributed in the US in 1971.
Rating:
PG (adult situations)
Genre:
Directed By:
Written By:
In Theaters:
On DVD:
Runtime:
Studio:
Imperial Entertainment Corp
Critic Reviews for Beyond The Law
There are no critic reviews yet for Beyond The Law. Keep checking Rotten Tomatoes for updates!
Audience Reviews for Beyond The Law
Beyond the Law (aka "Bloodsilver") Starring: Lee Van Cleef, Antonio Sabato, Lionel Stander, Bud Spenser, and Gordon Mitchell Director: Georgio Stegani When master-thief Billy Joe Cudlip (Van Cleef) and his cohorts decide to rob a silver mine of its payroll (and possibly even its silver shipment), a series of events lands Cudlip in the position of town sheriff. As he settles into the job, and starts developing an increasing amount of respect for a young mining engineer (Sabato), his no-nonsense boss (Spenser) and the other honest, upstanding townsfolk, he starts to want more than just life as a thief. But his partners are still bent on committing the heist... and a large gang of murderous bandits led by the psychopathic Burton (Mitchell) have also set their sights on the silver shipment. "Beyond the Law" in an interesting film in that it features actors in types of roles that we're not use to seeing them in. Lee Van Cleef plays a through-and-through good guy in this film (despite his larcenous tendencies as the story starts), and Bud Spenser doesn't throw a single punch during the entire movie; in fact, he's hard to recognize without his beard and usual scruffy appearance. Unfortunately, the film features from a script that is focused in all the wrong places--for example, Van Cleef's character makes a transformation from ever-scheming thief to a man who feels loyalty and protectiveness toward the citizens of the mining-town, something which would have made for interesting viewing, but which seems to happen between scenes--and the middle section is padded more heavily than the middle-section of a longhaul trucker who loves beer too much. At a few points in the film--such as when Van Cleef and his partners make their presence known in the film for the first time, when Burton takes the town's women and children hostage in order to get the silver shipment, and the shoot-out--gives us glimpses of the excellent movie "Beyond the Law" could have been if the script had gone through another draft or two, and if the director had given the film more substance and less filler. As it stands, however, this is a sub-standard spaghetti western that's more boring than entertaining.
Steve Miller
Discussion Forum
Discuss Beyond The Law on our Movie forum!