Billy Budd
(1962)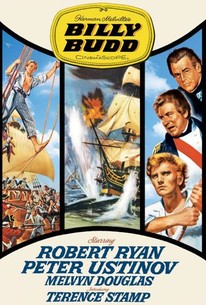 Movie Info
This allegorical tale of good verses evil comes from the classic novel by Herman Melville. Billy (Terence Stamp) is an eager 18 year old who goes to sea on a boat commanded by Captain Vere (Peter Ustinov). Billy is relentlessly harassed by the sadistic master-of arms Claggart (Robert Ryan) and his equally slimy underling Squeak (Lee Montague). When Billy kills Claggart, the Captain is torn between own compassion for Billy and the maritime law calling for Billy's death by hanging. He ponders the moral dilemma when a strong case is given for justifiable homicide. Peter Ustinov produced and directed the film. The screenplay was co-written by Ustinov and Robert Rossen.
Critic Reviews for Billy Budd
All Critics (7) | Fresh (7) | Rotten (0) | DVD (3)
Terence Stamp received his only Oscar nomination (supporting category)for playing the titular role, the naive and charismatic youth, in Peter Ustinov's version of Melville's classic.

Director Ustinov indulges his own performance, but otherwise, it's a great yarn well told.

Audience Reviews for Billy Budd
½
I've never heard Billy Budd mentioned as a great movie, but I found it remarkable. Like Grand Illusion, it's a war movie without any major war scenes. It's very Herman Melville, Good vs. Evil on the high seas. This is fine with me - I prefer movies about people and what it means to be human, which is very much the territory in which Melville wrote. It's a very talky movie, but the dialogue is actually tightly written; every line moves the movie forward, either in your understanding of the characters or the story line itself, if you can make your way through all the maritime jargon. There is really very little fat on the script. When most of the cast are disgruntled tars, it can be hard to delineate differences among them, but Billy Budd manages to draw distinct characters within the crew. This movie was Peter Ustinov's pet project. He produced and directed it, co-wrote the screenplay and played the key role of Captain Vere. His respect for the source material is evident. His direction and performance are both sensitive and thoughtful. Billy Budd is described as a beautiful lad of almost seraphic nature. Of course, in the early '60s, London was knee-deep in beautiful young actors - Michael Caine, Peter O'Toole, Richard Harris, Sean Connery... For Billy Budd, Terence Stamp got the call. I'm writing this review a couple weeks after the opening of The Force Awakens, and there is something of a conversation going on now about what are called "Mary Sue" characters, a pejorative borne from fan fiction culture that describes a character that is unrealistically good and perfect, more often than not ascribed to female characters. The character Rey is cited as a Mary Sue character, with accusations coming from dissenters that male characters are never given such analysis, and that Luke Skywalker is every bit as artificially good and perfect as Rey. Of course, it's true that Luke was never given such analysis, but it's also true that no one prefers Luke to the rakish, cynical Han Solo. It's a bit interesting in historical context, because at one time in our movies, all heroes were consistently good and pure, and all villains were irredeemably evil. Actors who played heroes in movies protected their heroic images zealously. Only later did film noir arise with the concept of flawed heroes, anti-heroes, or just out and out rooting for the bad guys. This dichotomy has existed ever since someone noticed that Lucifer was a more interesting character than God in Milton's Paradise Lost. Once the grip of American hero-worship and the censorious Production Code, which insisted that good must always triumph over evil, started to wane, heroes that were all-good were understood to be boring. Actors became far more intrigued in playing the bad guy. The John Waynes of the world were giving way to the Jack Nicholsons. Even John Wayne himself played a deeply flawed character in The Searchers, and an unrewarded good guy in The Man Who Shot Liberty Valance. And now, pure good guys are "Mary Sues" (or their male equivalent), and not to be tolerated. Billy Budd is very much a Mary Sue. He is relentlessly kind, gentle, compassionate, and has a charming effect on everyone he meets. You know, Christ-like; Christ is, I suppose, the Ultimate Mary Sue. Of course, in a religious allegory, one may expect the Christ character to be perfect. But the performance of that character can be a thankless job for the actor. So it can't really surprise us that Terence Stamp's Billy Budd is not regarded as highly as Robert Ryan's sinister Master-at-Arms Claggert. Despite his excellent reputation, it's a bit odd that Robert Ryan was cast in this pivotal role. Apart from Melvyn Douglas, who plays an older Danish man, Ryan is the only American in the movie, and he makes zero attempt at affecting a British accent. But Ustinov must have known what he wanted; Ryan was superb in the role.
½
a faithful adaptation of melville's powerful last work. i liked it slightly better than huston's moby dick, tho to be fair, no one could faithfully adapt that behemoth. terence stamp in his film debut is a real charmer and robert ryan has never been quite so flinty-eyed and evil. ustinov's direction outshines his acting
Stella Dallas
Super Reviewer
Fine acting in this sad tale.
Billy Budd Quotes
There are no approved quotes yet for this movie.
Discussion Forum
Discuss Billy Budd on our Movie forum!