Bliss
(1985)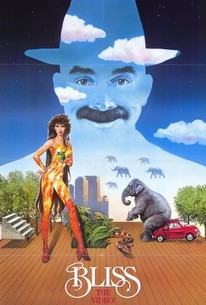 AUDIENCE SCORE
Critic Consensus: No consensus yet.
Movie Info
This critically acclaimed surrealistic comedy won the Australian Academy Award for the "Best Film" of 1985. Advertising executive Harry Joy (Barry Otto) suffers a heart attack and has a near-death experience that changes his outlook on life. His miraculous return convinces him that there is a heaven but that his life on Earth is hell. His wife Bettina (Lynette Curran) has her worst fears realized when she develops brain cancer from gasoline fumes. His son David deals cocaine and receives sexual favors from his drug-addicted sister Lucy (Gia Carides). Harry finds love with a kind-hearted prostitute (Helen Jones) who kills a top oil-company executive, and then herself, with Molotov cocktails. Shocking scenes include cockroaches bursting from Harry's stitches after his open-heart surgery, and fish dropping from in between a woman's legs onto a restaurant floor. This bizarre and often slow-moving film lampoons the luridness of the human condition.
Critic Reviews for Bliss
All Critics (4) | Fresh (4) | Rotten (0)
A droll, dry and mordantly amusing comedy-drama that exists in a Twilight Zone-esque world impossible to gauge or define.

Viciously funny, scathing in its satire and damning in its inescapable truths...offering one of the most tender and moving climaxes I've ever seen.

Mountain Xpress (Asheville, NC)

Audience Reviews for Bliss
An obscure Australian film whose weirdness and oddity is boldly presented. 25 years after its release, Bliss is still a fascinatingly bizarre experience as its caustic flavor still bites through its comic delirium.
Lee Mayo
This was one of those movies that came on after a movie I actually wanted to watch, but I was too lazy to change the channel. It was kinda confusing and didn't make a lot of sense and I think it's supposed to be funny ... but not really ... as far as I can tell.
Josh Hakala
[url="http://photos1.blogger.com/blogger/4643/1247/1600/59m.jpg"][img]http://photos1.blogger.com/blogger/4643/1247/400/59m.jpg[/img][/url] Bliss by Ray Lawrence, 1985 (Director's Cut) Greeted with a mass walkout at the Canne Film Festival [i]Bliss [/i]is a film that proves the pundits at Canne don't always get it right. Often critized for being too long and overly ambitous [i]Bliss [/i]can be a bit much to take in if you decide to watch this film at the wrong time. I, however, don't feel this is a negative thing by any means. For example I love [i]The Thin Red Line[/i] but I invariably fall asleep if I try to watch it late in the evening. Coming in at just over 2 hours, the director's cut of [i]Bliss[/i] is a sprawling introspective look sociopolitical issues that are still relevant in Australia today. This introspection is played out through a cast of quirky characters and quirky local Australian humor. The story centers around Harry Joy (Barry Otto), a highly successful man who works in advertising and loves to tell a good story. Almost immediately Harry Joy dies, for four minutes that is, until he is revived. His revival sparks a journey that leads him to believe that he is at turns mad or in hell. Ultimately he realizes he is neither and goes through a transformation of a deeply personal nature. In some ways I was reminded of [i]Big Fish[/i] when I watched this fim. But where [i]Big Fish[/i] chose to deal simply with the relationship between father and son, [i]Bliss[/i] chooses to shoot for something much bigger in scope. It considers modern urban life and what consequences that brings to our society. Cancer is a major thematic point in the film, and one does not need to be a resident of Australia to realize the cancer maps that insurance companies use are just as prevelant in the United States. Other themes involve personal demonization in the pursuit of money, "In the end, what else is there." and the more complex dynamics of the modern family. Juxtaposing Harry Joy's utterly corrupt family and hollow relationship between him and his equally hollow wife with the simplistic relationship Harry Joy discovers with Honey Barbara the film also delves into the dynamics of human relationships and what is lost is the hustle of modern life. Admittedly these are themes that have been explored before in cinema, but it is the uniquely Australian flavor that makes the film particularly interesting. Similar themes are covered, but are looked at in a uniquely different light. If I had any complaints about the film, it would be that there was a little too much voice over narration for my taste, but all in all that is a minor complaint to have.
Devon Durand
Bliss Quotes
There are no approved quotes yet for this movie.
Discussion Forum
Discuss Bliss on our Movie forum!