Blood and Sand
(1941)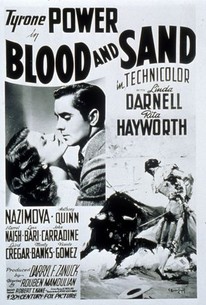 Movie Info
Based on the novel by Vincente Blasco Ibanez, Blood and Sand is the beautifully rendered story of the rise and fall of a young, cocksure Spanish bullfighter, played by Tyrone Power. Working his way slowly up the ladder to success, Power achieves fame when he is praised to skies by fatuous, fickle critic Laird Cregar. A country boy at heart, Power finds himself way over his head with sophisticates, and is soon torn between his pious and faithful wife Linda Darnell and sexy, mercenary Rita Hayworth. It is Darnell, however, who comforts Power after his final, fatal goring in the bull ring. The film's best scenes depict the curious combination of horror and fascination with which bullfighting aficionados treat this most barbaric of "sports." Blood and Sand was previously filmed in 1922 with Rudolph Valentino; a Valentino contemporary, Alla Nazimova, plays Power's mother in the remakes. Portions of this film turned up as stock footage in the 1945 Laurel and Hardy comedy The Bullfighters.
Critic Reviews for Blood and Sand
Audience Reviews for Blood and Sand
½
The cow has not been born yet that can give birth to the bull that can kill me. The son of a deceased bull fighter is being raised in humble surroundings and decides to continue down a parallel path as his father. He leaves his home and heads to Madrid where he perfects his craft, gets married, and lives a life of luxury. However, the pit falls that come with being rich may destroy the prized bull fighter. Could this be a classic example of be careful what you wish for? "We need to stop the train!" "How're you going to stop a train?" "Have you ever seen a bull stop a train?" "You're not a bull." "I can stop a bull so I can stop a train." Rouben Mamoulian, director of Golden Boy, Silk Stockings, The Mark of Zorro, The Gay Desperado, Dr. Jekyll and Mr. Hyde (1931), and City Streets, delivers Blood and Sand. The storyline for this picture is very interesting and delivers a unique perspective of a bull fighting character. The settings are beautiful and well delivered and the cast delivers wonderful performances. The cast includes Tyrone Powers, Linda Darnell, Rita Hayworth, John Carradine, and Anthony Quinn. "They say when a ship is sinking all of the rats leave. Well, good-bye, rats." My wife and I have become fans of Tyrone Powers who reminds us slightly of Cary Grant. This movie was another great display of his ability to deliver both the tragic and charismatic aspects of his character. This is another great drama film from the 1940s that is worth your time. "I dedicate the death of this bull to the beauty of the woman of Spain." Grade: A-
Kevin Robbins
Do they still have bullfights? I had to look it up...but apparently so. Despite calls by animal-rights groups for the complete banning of bullfighting - there are hold over countries that still recognize it as a traditional sport. I once saw a televised bullfight and it was enough to turn me completely off to the "sport"...so I am biased in that regards. I side with the animal activists. Director Rouben Mamoulian's 1941 film, BLOOD AND SAND is about a bullfighter - yet contains very little bullfighting per se. Times dictated that the filmmakers consider the sensibilities of the audience...so although there are footage of actual bullfighting intercut with the studio shots - the very romanticized notion of the sport just cannot compare to the graphic nature of the real thing...so the viewer is spared the witnessing of an actual "estocada" - when the matador thrusts his sword between the shoulder blades of the bull delivering the coup de grace. During the film's prologue, a youthful Juan Gallardo (Rex Downing) runs away from home accompanied by four of his closest pals. Their hope is to travel to the corrida in Madrid and train to become bullfighters. Juan vows to his girlfriend, Carmen (Ann Todd) that he will be back to marry her once he has become a world-famous matador. Ten years elapse and Juan (now played by Tyrone Power) is a matador - but of dubious skills. Juan's training is at the expense of a formal education so that Juan (and his pals) cannot read and so misunderstands the articles written about him by the local bullfight critic, Natalo Curro (Laird Cregar). Thinking he is on his way to becoming famous, Juan returns to his home town to propose to Carmen (now played by Linda Darnell). Juan achieves a modicum of success...well enough to support his wife and family. His growing fame also catches the eye of a socialite, Dona Sol (Rita Hayworth) - who is known for collecting and discarding men as a hobby. The film presents some interesting themes but doesn't go far enough to achieve real drama. I was hoping for more tension between the characters but everyone is just too nice. Juan, despite his bravado is not a very interesting character. Tyrone Power is handsome, but seems a bit too youthful looking to be the carousing matador. His scenes with Darnell are okay but it didn't help that scenes with Dona Sol are only implied and off camera - so that no chemistry is ever achieved with Rita Hayworth. Linda Darnell is a very pretty actress, but Hayworth is just stunning in every scene she is in. It would be 5 more years until GILDA but she is just the embodiment of feminine pulchritude here (especially wearing that white evening dress). Hayworth plays the femme fatale - she is most definitely "femme" but the script could have used a bit more "fatale" of the Bette Davis kind. Except for the scene in which Dona Sol is confronted by Carmen (my favorite scene in the film) or when she "tosses away" a lover (played by a young George Reeves) is when Hayworth's character shows a bit of venom - but I really wanted to see more. A bit wasted too are Juan's friends Manolo (Anthony Quinn) and Nacional (John Carradine)...although Quinn does a nifty flamenco dance scene with Hayworth. The film is beautifully shot for an early technicolor film. Early technicolor required a lot of light so it's interesting that the cinematographers were able to achieve some shadow effects in their interior sets. Compare that to some of the color films of the 50's and 60's where sets have that evenly lit look (a boring look really). GILDA is black & white - so it's a real treat viewing Rita Hayworth in this film in color.
bernard anselmo
Realism takes a backseat to romance in this 1941 Technicolor extravaganza. A young Spanish boy rises from the depths of poverty to become "The World's Greatest Bullfighter". Tyrone Power is Juan Gallardo, the matador who discovers that fame is fleeting and not necessarily all that it is cracked up to be. His marriage to the young, virtuous Carmen (Linda Darnell) is threatened when his notoriety attracts the attention of the beautiful but unscrupulous Dona Sol (Rita Hayworth). This classic teaming of Hollywood heavyweights also features an up-and-coming young Anthony Quinn in a memorable supporting role. Every effort was made to try and make the violent sport of bullfighting more palatable for American audiences. Scenes of slaughter and blood are shot from a distance or, more often than not, not at all - opting instead for reaction shots of the crowd to convey the shock and brutality of the circumstance. Blood and Sand may not be an honest rendering of Spanish toreadors but it is enormously entertaining.
Randy Tippy
Super Reviewer
Blood and Sand Quotes
There are no approved quotes yet for this movie.
Discussion Forum
Discuss Blood and Sand on our Movie forum!