La Noche de los mil gatos (Blood Feast) (The Night of a Thousand Cats) (Night of a 1000 Cats)
(1972)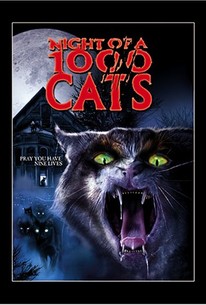 AUDIENCE SCORE
Critic Consensus: No consensus yet.
Movie Info
In the Mexican horror film The Night of the Thousand Cats, the villain of the story is a handsome, wealthy playboy (Hugo Stiglitz) who likes to make love to vast numbers of lovely women. For some reason, once he has had his way with them, he decapitates them, preserves their heads in alcohol, and feeds their bodies to his many cats. He travels out of his mansion in fabulous motorcars, motorcycles and helicopters in pursuit of feminine fulfillment. Eventually the cats choose their own victim.
Rating:
R
Genre:
,
Directed By:
Written By:
In Theaters:
Runtime:
Studio:
Avant Films S.A.
Critic Reviews for La Noche de los mil gatos (Blood Feast) (The Night of a Thousand Cats) (Night of a 1000 Cats)
There are no critic reviews yet for La Noche de los mil gatos (Blood Feast) (The Night of a Thousand Cats) (Night of a 1000 Cats). Keep checking Rotten Tomatoes for updates!
Audience Reviews for La Noche de los mil gatos (Blood Feast) (The Night of a Thousand Cats) (Night of a 1000 Cats)
As far as "movies so bad, they're good" go, Night Of A 1000 Cats had a lot to offer. Star of Mexican trash cinema Hugo Stiglitz, looking very much like a member of 70's rock band Boston, romances and scores with the ladies. However, once he gets what he wants, he decapitates them, and feeds the remains to a pit of a 1000 cute as a button meowing kitty cats! When the evil bald mute manservant runs afoul of Stiglitz, and gets thrown into the pit alive and is devoured, the film loses a little credibility. I would have been sitting down there, petting them, and had those cats purring like a champ! Despite this, when you view a Psychotronic film, you want 1/2 naked retro women [check], groovy soundtrack [check], howlingly bad dialogue [check], and a gimmick [cats, check]. My only disappointment, is not enough kitty cat action. When the cats do finally attack, it's quite funny to see what looks like the protagonists being pelted by stuffed animals. I can dig it.
Chuck Nolan
I love b-movies, everyone knows this. Sometimes, they can be overlooked, low budget gems. Other times they are soo bad they're great fun. Still others, they embrace their badness and actual wind up being actually good by being campy. Finally, we have the times when the just outright suck the big one. This, this is one of those cases! At a scant 63 minutes, it still feels over-long. Also, I do not know why the title specifies a singe night, seeing as the movie takes place over the course of a few days; was the extra "s" too expensive? So, it starts off like some weird, experimental 70s romance flick, with Hugo swimming and smooth talking some lady. Hugo takes her back to his monastery, which has been in his family for "generations", and his man-servant/ butler, I swear, use to be a monk there. He dresses and acts like one. So, for the first 20 minutes, no cats, no killing, it's not even night time yet! THen we get a tour of the place, and then they have dinner, then Hugo feeds the newly plump gal to his cats, for reasons never to be explained. He does a similar pattern with two more people, and the third gets wise and attempts an escape. This plot is only interrupted for scenes in which Hugo is flying a helicopter to various women's houses, one which has his (apparent) child. None of this leads anywhere, makes any sense, or feels urgent. The acting is so bland and stiff. The direction is lackluster, to be nice. The music doesn't fit a single damn scene. The geography was awkward, and like the rest of movie, seemed to be made up as it goes along- the monastery is on a hill, next to the jungle (?) by the lake (?). This is never setup and I am only guessing at that.
Bobby LePire
Discussion Forum
Discuss La Noche de los mil gatos (Blood Feast) (The Night of a Thousand Cats) (Night of a 1000 Cats) on our Movie forum!