Breakout
(1975)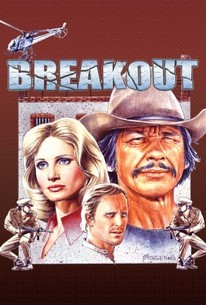 Movie Info
The star-director team of Charles Bronson and Tom Gries (Breakheart Pass) combine their efforts again on Breakout. Bronson plays Nick Colton, a reckless pilot who heads to an unnamed South American country, in hopes of rescuing imprisoned Jay Wagner (Robert Duvall). Villain Harris Wagner (John Huston), who has framed Jay, has an unlimited supply of henchmen at his disposal, but they're no match for the dauntless Colton. Jill Ireland, Bronson's real-life wife, costars as Duvall's missus.
Rating:
PG
Genre:
Directed By:
Written By:
On DVD:
Runtime:
Studio:
Sony Pictures Entertainment
Critic Reviews for Breakout
Audience Reviews for Breakout
The day I'm reduced to making love in here...that's the day I give up. A prisoner wrongfully accused and sent to prison tells his wife he has a plan to breakout. She cuts a con artist pilot a check to help her break him out, when he discovers the mission, he offers to pull the mission through for $50k. They agree and begin an adventure to rescue the husband...but will they fall in love in the process? "I've never been raped." "We should all be so lucky." Tom Gries, director of Breakheart Pass, Helter Skelter, 100 Rifles, Will Penny, Journey through Rosebud, Lady Ice, and Girl in the Woods, delivers Breakout. The storyline for this picture is above average for the genre and fun to watch unfold. The script is pretty witty and the characters are interesting. The cast includes Charles Bronson, Robert Duvall, Randy Quad, Jill Ireland, and Sheree North. "What are you going to do, condemn a man because he was caught?" I DVR'd this because it starred Charles Bronson, Robert Duvall, and John Huston (in a small role). All three of these men are eccentric, recluse, Hollywood heavyweights and I thought it would be cool to see them in a picture together. Overall, this is an above average action picture that is worth a viewing but far from a classic or worth adding to your DVD collection. "Rape me. I'll help you." Grade: C+
Kevin Robbins
Should've been called Charles Bronson and friends. Chuck, Robert Duvall, Randy Quaid, John Huston and, of course, Jill Ireland star in this really fun flick where Bronson plays a fast talking, con-man, airplane pilot hired by Ireland to break out her husband from prison. Along with seeing Bronson in a fun role this is well worth seeing just for a splatterific scene straight out of Braindead (or Raiders of the Lost Ark for the strong stomached). After watching this I think the Russell Crowe, Meg Ryan flick Proof of Life (which I also enjoyed, gotta love David Morse and Caruso) should've been credited as a remake.
Christopher Brown
Super Reviewer
½
A damn fun prison break flick. The young Randy Quaid is hilarious to see! ;D Just a generally cool 70s flick. Worth seeing for sure.
Christopher Jayawardena
Breakout Quotes
There are no approved quotes yet for this movie.