Broken Blossoms
(1919)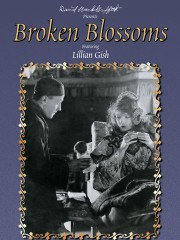 Broken Blossoms Trailers & Photos
Movie Info
Based on "The Chink and the Child", a story by Thomas Burke, Broken Blossoms is one of D.W. Griffith's most poetic films. Richard Barthelmess plays a young Chinese aristocrat who hopes to spread the gospel of his Eastern religion to the grimy corners of London's Limehouse district. Rapidly disillusioned, Barthelmess opens a curio shop and takes to smoking opium. One evening, Lillian Gish, the waif-like daughter of drunken prizefighter Donald Crisp, collapses on Barthelmess' doorstep after enduring one more of her father's brutal beatings. Barthelmess shelters the girl, providing her with the love and kindness that she has never known. Crisp, offended that his daughter is living with a "heathen," forces the girl to return home with him. In a terrible drunken rage, Crisp beats Lillian to death. Barthelmess arrives on the scene, kills Crisp, then kneels beside Lillian's body and takes his own life.
more
Watch it now
Cast
News & Interviews for Broken Blossoms
Critic Reviews for Broken Blossoms
Audience Reviews for Broken Blossoms
The attitudes of the film are of course wildly dated but taking that into account, something you really have to do to look at the film objectively, the story is sensitively told and the acting by the leads is touching. Also the use of different colors for different locations was a striking choice to set the mood of the piece.
½
the story of a chinese man who falls in love with a girl of the london slums played by lillian gish. the chinese character is played by a white man and somewhat emasculated but overall it's a pretty sympathetic portrayal of interracial romance for 1919. some beautiful camerawork here if u can get past the inherent racist attitudes
Stella Dallas
Super Reviewer
Broken Blossoms Quotes
London Policeman: We may believe there are no Battling Burrows, striking the helpless with brutal whip - but do we not ourselves use the whip of unkind words and deeds? So, perhaps, Battling may even carry the message of warning.
Discussion Forum
Discuss Broken Blossoms on our Movie forum!
News & Features