Buried Alive
(1989)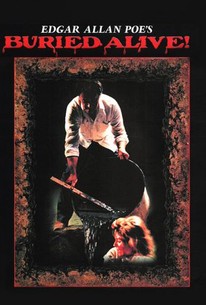 AUDIENCE SCORE
Critic Consensus: No consensus yet.
Movie Info
Although this bloody, relentlessly weird South African production purports to be a modern-day treatment of the works of Edgar Allan Poe (most promotional materials list the author's name above the title), it actually bears so little relation to Poe's writing that it makes Roger Corman's Poe "adaptations" seem meticulously loyal by comparison. The story involves a young psychologist whose arrival at the creepy Ravenscroft Institute for troubled girls is followed by the disappearance of several students. Tormented by a series of grotesque nightmares involving a deranged killer, the heroine eventually learns of the bizarre goings-on within the school's hallowed halls. Some oddball touches and outlandish performances from Robert Vaughn and Donald Pleasence (in a bad wig) make this film just campy enough to be entertaining. Alert viewers can spot John Carradine in his final role.
Rating:
R
Genre:
,
Directed By:
In Theaters:
On DVD:
Runtime:
Studio:
Sony Pictures Home Entertainment
Critic Reviews for Buried Alive
There are no critic reviews yet for Buried Alive. Keep checking Rotten Tomatoes for updates!
Audience Reviews for Buried Alive
I wonder if I should even write a review for this movie since I never read the Edgar Allen Poe story it was based on & even if I did read the story I probably wouldn't get it since I never understand his stories anyway.If I did read the story, Would the movie have made more sense or would it have even made a difference? Since I watched it yesterday I guess I'll write a review.I'm glad I got to see this movie off the free channel because it's not a movie I would've paid to see or rent.This movie is only worth watching if you can see it for free.It's a good time waster if you're looking for a horror flick to watch.If you do watch Burried Alive then you'll understand why the movie was a flop, a sequel was never made & why you should not pay to watch it
Brody Manson
Super Reviewer
Just plain awful. Plus, to use the name of Edgar Allen Poe in the beginning of this poor excuse of a horror flick is blasphemy. The problem with this film is that nobody gets buried, let alone alive. This film jumps back and forth between reality and fantasy. It really makes no sense. The film is good for a date because no one cares whats on the screen. RT goofs again, the year it was released was 1990, the star was Robert Vaughn, nowhere shown in their list of actors. Original Release Date: Jan 1, 1990 Using elements of Poe's short stories, Buried Alive tells the story of Janet Pendelton, a teacher at a correctional school for girls, and the horror she has to face as her students start disappearing. Actually they're being buried alive by someone who has a connection to the school's insane past and perhaps is closer to Janet than she expects. Cast Robert Vaughn Donald Pleasence Karen Witter Ginger Allen John Carradine Nia Long Crew Production Designer: Leonardo Coen Calgi Screenplay: Jake Clesi Director: Gerard Kikoine Editor: Gilbert Kikoine Screenplay: Stuart Lee Cinematographer: Gerard Loubeau Executive Producer: Avi Lerner Based on a Work by: Edgar Allan Poe Associate Producer: John H. Stodel Producer: Harry Alan Towers Composer: Frederic Talgorn Casting Director: Jane Warren
monsieur rick
A while back, I reviewed the Harry Alan Towers-produced version of [url="http://www.rottentomatoes.com/vine/journal_view.php?journalid=13186&entryid=203687&view=public"][i]Masque of the Red Death[/i][/url], the only film Edgar Allan Poe "adaptation" featuring Frank Stallone and an '80s hard rock band. I believe that I'd mentioned that the film was one of three Poe adaptations that Towers made at the time, and promised the other two eventually. 1990's [i]Buried Alive[/i] portends to be based on a story by Poe, but has about as much in common with any of his tales as a mayonnaise jar has in common with the 1982 St. Louis Cardinals. Beating [i]Masque'[/i]s "loose" treatment by a mile, [i]Buried Alive[/i] is not only content to place the horrors in a girls' school and feature dialogue like, "This asshole's got his dick in your brains and you don't even know it," but it manages to [i]misspell Poe's middle name "Allen" in the opening credits! [/i] The fact that things manage to somehow go downhill from there is a testament to cinematic brilliance in stupidity. Playboy playmate-turned-marginal-B-movie-actress Karen Witter (a busy actress at the time, with roles in [i]The Vineyard, Out of the Dark, Popcorn[/i] and the Lynn Redgrave campfest [i]Midnight[/i]) plays a school teacher that takes up residence at "Raven's Croft," a school for twentysomething teen girls run by Robert Vaughn. The former Man from U.N.C.L.E. has apparently been experimenting with new treatments in helping teenage jezebels with the help of oddball doctor Donald Pleasance, who appears to be the only other person on staff. Girls start vanishing, with Vaughn explaining their disappeances as "roubled runaways," but we know they've been kidnapped by some guy in a Frankenstein mask who seals them behind brick walls underneath the school. Or possibly kills them by electrocuting them as they use a kitchen mixer on their hair. It's a little unclear, actually, but the point is, they're dead, not missing. Our heroic teacher starts to get suspicious when she sees pulsating walls and a hand comes out of an ant-filled toilet to grab her (!?), but Donald Pleasance dismisses them as hallucinations. Or he could be just giving her a recipe for reuben casserole, for all you can decipher from his accent, which sounds as though it was derived from the clinky English grammar of a half-dozen different European immigrants, all from a different country. It really is an amazingly silly performance, and coupled with Pleasance's horrific toupee, almost makes the movie worth seeing. The person behind everything, of course, is Vaughn, who still has his father (John Carradine, in his final intentional role, though he did crop up in a couple films afterward thanks to random footage) locked up in the basement for some reason. There's supposed to be some mystery there, I suppose, but the only other possibility is Pleasance, who's such an obvious red herring, and it becomes clear about five minutes in the Vaughn is just biding his time until he can really whip out a can of overactass on the movie. He finally does in the final reel, and it's almost worth it. The stuff leading up to the finale is sleazy, though it's never as sleazy as it wants to be. The girls fight and haze each other, but it never reaches women's prison movie levels, and they even seem to be wearing thongs in the shower. Porn star-turned-semi-legit-actress Ginger Lynn Allen does a fine job as the queen bee of the group, easily outshining Nia Long in her film debut, in a performance so stilted you wonder how she got [i]Boyz N The Hood [/i]just a year later. Perrenial victim William Butler shows up as Allen's boyfriend and a pre-[i]Darkman[/i] sequel Arnold Vosloo gets a thankless supporting role as a cop who doesn't manage to investigate anything. Director Gerard Kikoine tries to dress the shit he's clearly making up with loads of wacky camera angles, fast zooms and close-ups that are pretty irrelevant, which makes things a hell of a lot more entertaining, if not even remotely good. (He tried this tactic with the Anthony Perkins sleaze classic [i]Edge of Sanity[/i] as well.) The result is a deranged hodgepodge of sleaze moments, insipid deaths, overacting, minimal logic and bizarre, nearly Ed Wood-ish lines like, "Who's to say they weren't there? There are many different levels of existance!" Oh, and ants. There's lots of ants in this film. In fact, there's more ants in this film than any other film that doesn't involve killer ants. The thing is, they're just ants. They're not scary. They're just everywhere, including, as I mentioned earlier, in the toilet. There's no reason for them, and there's nothing supernatural going on, so there's really no justification for anyone to ever be hallucinating ants, and yet, ants. Everywhere. The idiocy of the film works naturally through the half-baked performance of Witter, who knows how to scream, but not really how to recite dialogue in anything resembling a rational volume. It probably doesn't help that her character and situations are so poorly written and that the writers have her talk to herself at any opportunity, but man, is this woman hilariously lame to watch on screen. Whether cavalierly breaking through a brick wall (!?), shrieking at the mere sight of Donald Pleasance doing absolutely nothing or freaking out when a lightbulb in her lamp isn't properly inserted into the socket, Witter's performance gives Barbi Benton's knuckleheadedly awful one in [i]Hospital Massacre[/i] a run for its' money. There's very little good about [i]Buried Alive[/i], at least in the traditional way, but it's still a bizarrely entertaining movie for bad film buffs. It's got actors on their way up underacting, actors on the way down overacting and actors on their way to nowhere barely acting, along with a fair share of silly sleaze and inane dialogue--the perfect thing to go with a case of beer and some easily amused friends. Oh, and ants. It's got lots of ants. And technically, only one person gets buried alive.
Paul Freitag
Buried Alive Quotes
There are no approved quotes yet for this movie.