Cat People
(1982)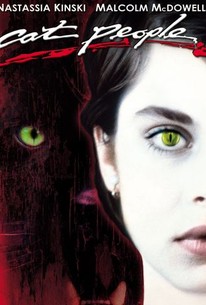 Movie Info
In this loose adaptation of the 1942 horror classic of the same name, a 2001-style opening montage establishes some sort of sacrificial, mystical union between panthers and an ancient tribe of humans. Flash forward to 1980's New Orleans, where waifish Irina (Natassja Kinski) meets her older brother, Paul (Malcolm McDowell), a minister, for the first time since their animal trainer parents died and she was sent to a series of foster homes. Paul's Creole housekeeper, Female (Ruby Dee), helps Irina settle into her brother's home, but Paul himself disappears. Cut to a fleabag motel where a blasé prostitute finds an angry panther instead of a client; after mauling her, the cat is captured by police and a team of zoologists: Oliver (John Heard), Alice (Annette O'Toole), and Joe (Ed Begley Jr.). The next day Irina finds herself in the zoo where these scientists work; drawn to the newly captured panther, she befriends Oliver and takes a job in the gift shop. Shortly after the panther's violence turns deadly, it escapes, and soon Paul turns up spouting an unbelievable story about his family's were-cat heritage and his inevitable sexual union with little Irina. On the run from her dangerous brother, Irina takes refuge in a sexually frustrated romance with Oliver, afraid of what might happen if she consummates their passion. Astute viewers will notice that the zoologist characters refer to the film's panthers as leopards; "panther" is actually a generic term for any large cat, especially a black one, but Cat People's panthers are in fact leopards whose black color comes from a recessive trait known as melanism. ~ Brian J. Dillard, Rovi
People Who Like this movie also like
Critic Reviews for Cat People
Audience Reviews for Cat People
Most of Paul Schrader's films have contained elements of psychological terror before but he has only attempted unadulterated horror B-movies twice in his career (this being the first example and the second being the highbrow but interminable 'Exorcist prequel 'Dominion'). In regards to 'Cat People', he has crafted a sizzling, off-kilter piece of art-house erotica that is hardly frightening but it is always engrossing. If Zalman King was cross-pollinated with a dusky music video, it would resemble 'Cat People' in many ways. The art direction during the desert prelude and Kinski's psychedelic, full-frontal trek through the woods is absolutely impeccable. The moodiness is so pervasive that matter-of-fact ineptitude, like ungainly scenes of Kinski scaling trees, can be forgiven. The fact that Oliver, the zoologist introduces Irena to the art of devouring oysters (a well-known aphrodisiac) hints at the carnal subtext of the film. As the tight-lipped and cripplingly shy Irena, Kinski is both titillating and primal. We actually feel sorrowful that she cannot experience love without dire consequences to her mate. Truthfully 'Cat People' is somewhat uneven with sedate character-building scenes interrupted by gore-strewn excess (a panther autopsy and an arm dislocation), but it is ultimately a gorgeously photographed, underrated remake of the 1942 classic.
Cory Taylor
Super Reviewer
This one must have been with TV viewer in mind. Bring Back The Black & White films, cause this one sucked, 2 stars 2-7-13
Bruce Bruce
Super Reviewer
½
There's a fine line between sensual and tawdry and this erotic thriller does cross that edge a couple times. That may be two times too many for some viewers. Yet there's an unadulterated visual flair to the production that is genuinely entertaining. The mood is pretty sumptuous. Let's face it, this feature is entirely mood. It certainly isn't about the story which is kind of ridiculous when you seriously ponder it. That's part of what made the original so much fun. Much of that allure can be found here too. The drama creates a haunting ambience with its odd mix of romance and horror. If you can warm up to its languid rhythms, Cat People will entertain you. At the very least Giorgio Moroder's hypnotic score will makes sure of that. fastfilmreviews.wordpress.com
Mark Hobin
Super Reviewer
Cat People Quotes
There are no approved quotes yet for this movie.