Coup de torchon (Clean Slate)
(1981)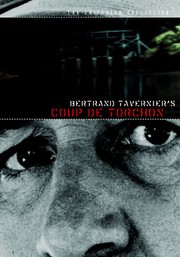 Movie Info
Based on pulp master Jim Thompson's Pop. 1280, Bertrand Tavernier's Coup de Torchon is a sardonic thriller that remains true to its source's spirit, even as it transposes the action from the American South to colonial West Africa. Lucien (Philippe Noiret) is the bumbling police chief of Bourkasa, a dusty outpost in rural Senegal. Badgered by local thugs, Lucien initially comes across as a pathetic oaf unable to stand up for himself. Things at home are scarcely better, as Lucien finds himself harried by his nagging wife, Huguette (Stéphane Audran), who is carrying on an affair with a man she claims to be her brother (Eddy Mitchell). Without warning, Lucien embarks on a nonchalant killing spree, murdering everyone who has ever mistreated him. As he sets about "cleaning the slate," Lucien intensifies his affair with ditsy Rose (Isabelle Huppert), all the while pining for the newly arrived schoolteacher, Anne (Irene Skobline). Remaining above suspicion even as bodies pile up, the seemingly witless Lucien gradually develops a twisted logic for his actions, animating his crusade with an evangelical purpose. By movie's end, Tavernier leaves little room for redemption, leaving the joyless Lucien mired in a moral quagmire of his own making. ~ Elbert Ventura, Rovi
more
Cast
News & Interviews for Coup de torchon (Clean Slate)
Critic Reviews for Coup de torchon (Clean Slate)
Audience Reviews for Coup de torchon (Clean Slate)
½
A intriguing morality tale with sprinkles of dark humor, sex and violence leaving a film that stays with you. Great direction, script and acting.
A wonderfully shot mix of drama, noir and gallows humor. Arguably Philippe Noiret's best performance.
Discussion Forum
Discuss Coup de torchon (Clean Slate) on our Movie forum!
News & Features