College
(1927)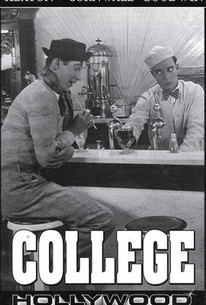 Movie Info
Awkward nebbish scholar Buster Keaton fails to make the grade at school with the jocks and the ladies -- until circumstances climactically push him to prove his athletic prowess and win the girl of his dreams. One of Buster's lesser -- but still classic -- silent features.
Critic Reviews for College
Audience Reviews for College
An intellectual, who eschews athletics but reasonlessly loves a girl who doesn't, tries out for various sports teams in his first year at college. I thought the anti-intellectualism inherent in this story was off-putting. The man committed to the intellectual life was demeaned - the object of his affections rejects him and even the dean of the college pities him enough to manipulate the coach of the rowing team to include poor Ronald. The film ultimately supports the idea that intellect for its own sake is a meaningless pursuit. Additionally, much of the middle part of the film is dedicated to Keaton slapstick. He awkwardly attempts to play baseball, unable to field a simple grounder, and flummoxes various track and field events. However, the climax, during which Keaton's character performs all of the sports feats flawlessly, was exciting, but it took so long to reach that payoff. Overall, I recommend watching the last fifteen minutes of College or a stronger Keaton film, The General.
Jim Hunter
Super Reviewer
½
Another great screwball comedy featuring the very talented, and very flexible, Buster Keaton. A major talent in the ways of physical comedy, and having a great "stone face" that never laughs nor smiles, Keaton is a heavyweight title character in this farce about the myth that the strongest will survive. There are some really stellar sequences, including a slow motion series of events where the title character is tossed up in the air by a group of college freshmen, and a scene in blackface, which at first I found distateful, but eventually laughed at, as it was necessary to the scene. The ending, where Keaton somehow goes through a routine of acrobatics, was my favorite of all.
Spencer S.
Super Reviewer
This isn't one of Keaton's best, it's my least favourite actually, mostly because the story is predictable and it's not as funny as his other movies.
College Quotes
There are no approved quotes yet for this movie.