The Comic
(1969)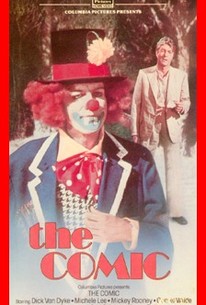 AUDIENCE SCORE
Critic Consensus: No consensus yet.
Movie Info
Carl Reiner directed and co-wrote this comedy-drama which tells the tale of a silent screen comedian whose talent doesn't quite outstrip his knack for self-sabotage. Billy Bright (Dick Van Dyke) narrates the story from his coffin, as he looks back on his life and career during his shabby funeral. In the early 1920s, vaudeville comic Bright goes to California to break into the movies, making a splash as he steals the show in his first short subject; he also steals Mary Gibson (Michele Lee), the leading lady, away from his director, Frank Powers (Cornel Wilde). Billy soon becomes one of the top funnymen in Hollywood after a series of successful two-reelers, and launches his own production company the same day he weds Gibson. But as Bright's star rises, his worst qualities come to the surface; he becomes an arrogant alcoholic who can't stay faithful to his wife, and while his first feature film, Forget Me Not , is a major success, his career quickly goes into a tailspin, and with the arrival of the talkies Bright is a has-been. In the 1960s, with a revival of interest in silent films, Bright is able to make a few bucks appearing in television commercials, but it doesn't take much success for his bad habits to take hold again. Reiner and Van Dyke drew inspiration from the onscreen work and off-screen lives of several silent-era funnymen for the character of Billy Bright, most notably Stan Laurel, Harry Langdon and Buster Keaton; the film also features a fine supporting performance from Mickey Rooney as Billy's faithful friend and sidekick, Cockeye.
Critic Reviews for The Comic
All Critics (3) | Fresh (3) | Rotten (0)
It's the kind of pic that you wanted to be better than it turned out, nevertheless even if it lets you down there's enough that's fascinating to keep you tuned in.

Ozus' World Movie Reviews
Custard mixes with arsenic in Reiner's bright meditation on slapstick

Mountain Xpress (Asheville, NC)
Audience Reviews for The Comic
½
This is indeed a gem that few people have seen or heard of. The story itself is not new, but in my opinion was the best performance of Dick Van Dyke's career. The final 10 minutes of the story have remained with me for 40 years. See it if you can.
Tom Dockery
½
Movies about the life story of comedians are, paradoxically, rarely funny. Sure, films like [i]Chaplin [/i]and [i]Man in the Moon[/i] may feature great comedic bits from the actors they're biopics of, but the bipic, by nature, is a tale of ups and downs, in which the person's life, no matter how great it actually was, seems fraught with misery, regret and loneliness--three emotions I'm an expert at wallowing in. It's not that shocking then that [i]The Comic[/i], the life story of fictional silent comedian Billy Bright, is a pretty dark little movie. What's surprising is the people that put it together. It's written and directed by Carl Reiner and starring Dick Van Dyke, not exactly two names you'd expect to see in a film that's filled with pathos. Van Dyke does an excellent job as Bright, a slapstick master who seems like an amalgam of Harold Lloyd, Buster Keaton and Fatty Arbuckle. While a talented pratfall artist, Bright is, as typical Hollywood cliche goes, a womanizer and a drunk, much to the chagrin of his first wife and true love Mary (Michele Lee). The film begins at Bright's funeral, where a pie being thrown at the eulogist provides an odd introduction to the bizarro dark humor that follows. From the grave, Bright narrates his life story, from his start in pictures to his refusal to make talkies to his final days, and the only real continuing factor in his life is his best friend Cockeye, played by Mickey Rooney. The showpieces of the film are clearly supposed to be the films-within-the-film that Bright stars in, and they're excellent recreations of the type of two-reel vaudeville antics that prevailed in much of the early silent films. There's so many of them, however, that they come at a cost--some of the screen time these films get could have easily been used to fill in the gaps in Bright's life, of which there are many. The film skips quickly from Bright giving up on talkies to his wasting away in a tiny apartment, trying for a comeback, and some bridge between the two segments would have been much less jarring. Fortunately, Bright is an interesting enough character to carry it off. Van Dyke is an expert at playing the lonely, desperate character, and the structure of his sentences as he talks to his (now ex-)wife at her new house has the same frantic sadness that much of Shelly Levine's character does in [i]Glengarry Glen Ross[/i], to the point where you think David Mamet or Jack Lemmon might have watched this thing as a guide. In one of the film's final scenes, Van Dyke even gets a chance to play a second role, that of Bright's effeminite, fashion designer son, and he manages to play what could be a caricature with dignity while still playing Bright himself as looking at his son with, not exactly disdain, but confusion and regret. While too uneven to really be considered a great film, [i]The Comic[/i] is certainly an underseen little drama, and serves well as a melancholy love letter to the silent film era. It's worth seeing for Van Dyke's performance alone, though the supporting cast, which also includes Cornel Wilde, (briefly) Gavin MacLeod, Isabel Sanford, Mantan Mooreland, Steve Allen (as himself) and Reiner himself, is certainly good as well. Don't be fooled by the box art, which, like the original release, tries to sell this as a screwball comedy, and you're in for a minor treat.
Paul Freitag
The Comic Quotes
There are no approved quotes yet for this movie.
Discussion Forum
Discuss The Comic on our Movie forum!