Commando
(1985)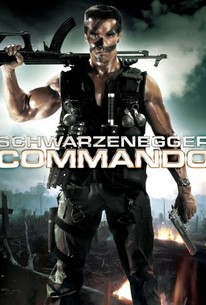 Movie Info
Colonel Matrix (Arnold Schwarzenegger) is retired and living peaceably with his 10-year-old daughter (Alyssa Milano) when she is kidnapped by the henchmen of an exiled Latin American dictator. The dictator's plan is to reinstate himself in power by eliminating the president of his country, using Matrix to kill him (or he will kill the kidnapped daughter). Matrix escapes from the plane that is supposed to be carrying him to his mission and then proceeds to go from one violent confrontation to the next as he hunts down the dictator and moves to rescue his daughter. Helping him is Cindy (Rae Dawn Chong), who has her own reasons for wanting the dictator dead. ~ Eleanor Mannikka, Rovi
Rating:
R (adult situations/language, violence)
Genre:
Directed By:
Written By:
In Theaters:
On DVD:
Runtime:
Studio:
20th Century Fox
News & Interviews for Commando
Critic Reviews for Commando
Audience Reviews for Commando
'I lied' I think its fair to say if you are asked to create a list of the best action movies ever it would/must include 'Die Hard' and this film. Probably one of the most over the top, ridiculous, continuous action set piece films ever committed to film, it stars Arnie, his character has a silly name and its fudging fantastico! Lets be brutally honest here for a minute, back in the day this was the dogs bollocks, as a kid I LOVED it! When the film was made it was suppose to be a serious adult action thriller, 18 cert, plenty of swearing and plenty of violence, no mistake...this was the real deal. Looking back now its a very different story, yes it still rocks ass but boy is it cheesy, predictable and cliched, if this were made now it would be an over the top CGI filled homage to be laughed at. Thing is people nowadays have gotta remember these classic action films weren't suppose to be stupid at the time, they were (semi) serious films for adults. This is why many modern action homages fall flat because they always go for the utterly ridiculous merely for laughs (and for a PG rating half the time), its not serious...yes I'm looking at a certain franchise Mr Stallone. Yet despite how crappy the film actually is if we're honest about it, its a legend of an Arnie vehicle. Of course the main reason is because of Arnie, without him I'm sure this film wouldn't be half as memorable (sorry Sly), but its also the influence it had. How many action films can you think of that have pinched ideas from this film? even better, how many videogames have totally ripped off this film? a lot is the answer. This film pretty much created the unstoppable one man army vs hordes of bad guys genre, much like Eastwood pretty much created the rugged good looking silent lone gunman who takes out all the bad guys in a town genre. The tooled up rippled macho special forces super soldier that simply cuts through whole camps of soldiers and military vehicles, mowing them all down with a machine gun in each hand whilst the sweat glistens on his overly pumped body. Think of all the videogames where the main character/s are basically complete copies of Arnie in this film, just running around slaughtering enemies eg. 'Mercs'. 'Come on Bennett, let's party!' Anywho we all know the plot here don't we, Arnie's daughter is kidnapped by the rather camp looking/acting Vernon Wells complete with chain mail mesh vest (oh yes), who in turn is being controlled by a hairy sweaty looking Dan Hedaya. This of course pisses Arnie off big time so he decides to go after his daughter and kill EVERYONE!!! When I say everyone I mean every last bad guy and his dog (not really). This begins a long series of battles that involve Arnie kicking the shit outta henchmen one after another until he gets to the baddie base camp and single handedly destroys it. When I say single handedly I mean just that. Arnie runs around topless with rocket launchers, large knives, Uzi's, shotguns and the awesome M60E3, quite literately blowing lines of men away like there's no tomorrow. The sheer magnitude of killing going on in this films is incredible, its mind numbing! yet its totally tubular to watch. Arnie looks buffed as hell, he's in his prime, the biceps are bulging, the veins are popping, he's tanned up and he's got that weird haircut he used to have where its cropped on the top n sides yet a bit long at the back, afraid of the clippers methinks. The man is a mountain, a tank...and once he's set in motion nothing gonna stop this guy...not even hundreds of heavily armed troops. Like all Arnie films not only is the action big but so are the one liners, the dialog. This film doesn't disappoint with tonnes of memorable quips that are the stuff of legend now (I like to use the word legend now). Much of these witty snaps come up when Arnie must battle someone, no shortage of that here. Each and every henchman get his own chance to deliver some cool evil exposition and ultimately receive a timely last word from Arnie before he beats him to death, or guns him down, blows him up whatever. 'Let off some steam, Bennett' The film is what you may call the pinnacle of 80's action fests, the prime example of pure 80's action gold in camo pants. The whole thing quite literately plays out like a videogame with end of level boss battles for the main henchmen, taking out vehicles and buildings for extra points and a roaring finale. It is incredibly dumb and cheesy now yes, not back then, but now yes. There are some nasty visual continuity errors throughout, hokey acting by dozens of soldier extras doing some of the most acrobatic deaths you will ever see, really wooden acting, a rather odd reggae/calypso type musical score and the most laughable bad guys ever. I mean come on, what the hell is Vernon Wells character wearing and what does he look like, the fat tash and beer gut? really? David Patrick Kelly as Sully is a really annoying evil Michael J Fox looking clone and Bill Duke...is Bill Duke and his tiny ears. Altogether they are a funny bunch but memorable so job done I guess. But still, despite all its flaws and with tongue firmly placed in cheek, the film manages to be one of the greatest action films ever. Not serious in terms of plot with the likes of 'Die Hard' but still violent enough to make your parents not let you watch it. All I can say is quite simply, if you are an Arnie fan you can't fail to enjoy this, one of his best films. Gun porn a plenty, bloody squibs, real stunts no CGI, Arnie never gets so much as a scratch during his ordeal and a small cameo for Bill Paxton. John Rambo always was a Matrix wannabe...or was it the other way around. 'I eat Green Berets for breakfast. And right now, I'm very hungry!'
Phil Hubbs
Super Reviewer
½
At first glance, this is just an ordinary action film where the main guy has to save his daughter from her kidnappers. There is more going on in this story if you really listen and pay attention. It's a great story, and it's paired with a ton of great action sequences. This is one of Schwarzenegger's best films ever, yet I don't see a lot of conversation on it. A great action thriller with the best action star ever, what more could you ask for? I loved this movie, and I recommend it.
Matrix: You're a funny guy Sully, I like you. That's why I'm going to kill you last.  "If there's a mission that no man could survive... then he's the man for the job." Commando is exactly what you would expect. It is a fun, action packed thrill ride with the greatest action star ever, Arnold Schwarzenegger. It isn't a top shelf action film like some of his other works(The Terminator, True Lies). But for fans of his high body count, non-stop, full throttle, one liner heavy films, it is a joy to watch. The last twenty minutes makes up some of the most ridiculous kills you'll ever see as Schwarzenegger mows threw a whole fucking army by himself. Try to keep a body count at the end of this movie. I don't think you can without pausing. A one time soldier is now content living a peaceful life with his daughter in the mountains. One day an old Army buddy shows up telling him to expect someone to try to kill him, as a lot of people from his old outfit are being killed. As soon as the guy leaves, the people he was talking about show up and abduct Matrix's daughter. One of the men in charge also used to be in Matrix's outfit. Matrix is told to assassinate a foreign president and is put on a plane to do just that. But it's a Schwarzenegger character so you know he isn't gonna do what he is told. I liked Commando for what it was. Schwarzenegger always has a great presence onscreen. He is funny and exciting to watch, and this is just another example of what makes him the best action star to ever beat the shit out of some bad guys, say a one-liner, and walk away at the end.
Melvin White
Super Reviewer
Commando Quotes
| | |
| --- | --- |
| Col. John Matrix: | Excuse me, how long is the flight? |
| Flight Attendant: | About eleven hours, sir. |
| Col. John Matrix: | Thank you. And please don't wake my friend. He's dead tired. |
| | |
| --- | --- |
| Bennett: | Man, I feel good just like old times. How does it feel like to be a dying man? You're a dead man, John! |
| Col. John Matrix: | Bullshit! |
| | |
| --- | --- |
| Bennett: | John, I'm not gonna shoot you between the eyes, I'm gonna shoot you between the balls! |
| | |
| --- | --- |
| Col. John Matrix: | [Matrix has thrown a pipe through Bennett] Let off some steam, Bennett. |
Discussion Forum
Discuss Commando on our Movie forum!