Count Dracula
(1970)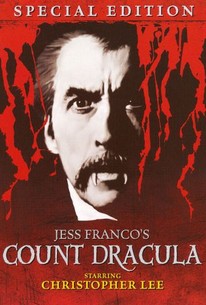 AUDIENCE SCORE
Critic Consensus: No consensus yet.
Movie Info
This doggedly faithful adaptation of Bram Stoker's novel about a vampiric nobleman was helmed by cult director Jesus Franco. Despite its textual loyalty and atmospheric photography by Manuel Merino, the film -- a co-production from Spain, Italy, Germany, and Liechtenstein -- is plodding and dull. Even Christopher Lee (in an uncharacteristically weak performance as Dracula), Klaus Kinski (as the mad Renfield), and seven credited screenwriters cannot make this confused, distant film worthwhile. Cult filmmaker Bruno Mattei edited the Italian version, and scenes were later used in Calvin Floyd's In Search of Dracula. Among several different versions are prints running 100, 98, and 86 minutes. Franco appears as a servant to Professor Van Helsing (Herbert Lom), and though certainly literate, the film nevertheless fails as both horror and drama.
Audience Reviews for Count Dracula
½
Despite trying hard to remain faithful to the source material, and even nabbing Hammer's own Dracula to play the title role, 1970's "Count Dracula" is just too slow and dull and boring to be all that interesting. Not even Lee can save this one (and he is vastly better in the Hammer pictures than he is here)...it just has no energy, and the threat seems to minimal. Sort of a wasted effort, because seeing Lee in a more faithful adaptation of the book should be great, but here it just isn't.
Ken Scheck
½
I've seen probably close to (if not) 10 of Franco's films and COUNT DRACULA is easily my favorite. However I would caution anyone who sees this as their introduction to Franco as I do not think that this film is a great representation of what seems to be his signature style. Perhaps this is why I enjoyed it so much. This entry into the famous vampire story of Dracula has much of the set pieces and atmosphere I would have expected to find in a Bava masterpiece. Franco (and crew) deliver an imaginative, creepy and appropriately ethereal atmosphere! Some surrealistic elements and stylistic spices are recognizably Franco (if you've seen his films) but more importantly . . . THIS IS EASILY AN ABOVE AVERAGE IF NOT GREAT VAMPIRE MOVIE!
Michael Joseph
½
I love seeing Lee playing Dracula, even if it's been done to death, literally! Still, this is a good more modern version of the film, not that it's the best, it could have been better, but it's entertaining anyway.
Count Dracula Quotes
There are no approved quotes yet for this movie.
Discussion Forum
Discuss Count Dracula on our Movie forum!