Damn Yankees
(1958)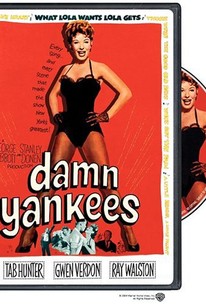 Damn Yankees Videos
Damn Yankees Photos
Movie Info
Damn Yankees is a frothy, faithful adaptation of the 1956 Broadway hit. In an amusing slant on the "Faust" legend, aging baseball fan Joe Boyd (Robert Schafer) is given an opportunity to lead his beloved Washington Senators to victory by a devilish gent named Applegate (Ray Walston). Boyd is transformed into handsome young "Shoeless" Joe Hardy from Hannibal, Mo. (and in the process, the part is taken over by Tab Hunter, who's better than everyone said he was back in 1958). Joe becomes the Senators' star player, but at the price of his immortal soul; he isn't terribly worried, however, since he's built an escape clause into his contract with Applegate. To see that Joe doesn't get a chance to exercise that clause, Applegate sends his luscious assistant Lola (Gwen Verdon) to seduce the ballplayer. This effort doesn't work, but Applegate still manages to cause Joe to lose his chance at salvation. But there is still a ray of hope--if Hardy can win the deciding pennant game, he'll be able to foil Applegate's master plan of causing the Senators to lose. With Lola's aid, Joe gives the devil more than his due. The principal selling angle of Damn Yankees, beyond the presence of Gwen Verdon and Ray Walston delightfully recreating their stage roles, are the wonderful Richard Adler/Jerry Ross songs, including "You've Gotta Have Heart" and "What Lola Wants, Lola Gets." Based on the novel The Year the Yankees Lost the Pennant, the film (like the play before it) unfortunately throws away Wallop's wryly ironic climax; as a result, the last scenes appear rushed and haphazard. But why quibble? Damn Yankees is and always was a rock-solid piece of entertainment, as proven by its recent S.R.O. Broadway revival. ~ Hal Erickson, Rovi
Rating:
NR
Genre:
, , , ,
Directed By:
George Abbott
,
Stanley Donen
,
Bob Fosse
,
Gwen Verdon
,
James Komack
,
Jean Stapleton
,
Rae Allen
,
Ray Walston
,
Russ Brown
,
Shannon Bolin
,
Tab Hunter
Written By:
In Theaters:
On DVD:
Runtime:
Studio:
Warner Home Video
Cast
Critic Reviews for Damn Yankees
Audience Reviews for Damn Yankees
½
A middle aged man makes a deal with devil to help his favorite baseball team win. Witty, colorful musical is lot of fun with stand-out performances (Ray Walston especially) and great dancing. Not every musical number hits the mark, and the ending is a bit awkward, but you'll hardly notice.
Tim Henry
½
Very entertaining, not a good musical per se, but I still enjoyed it a lot. I think they needed a better seductress than Gwen Verdon.
Matt Heiser
Overbright, overdone version of the stage play. The upcoming remake can only be an improvement.
Discussion Forum
Discuss Damn Yankees on our Movie forum!
News & Features