Death in Venice
(1971)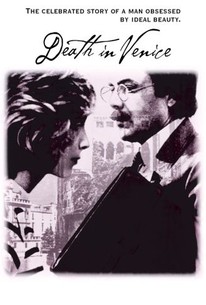 Movie Info
Based on a novel by Thomas Mann, Death in Venice stars Dirk Bogarde as a German composer who is terrified that he has lost all vestiges of humanity. While visiting Venice, Bogarde falls in love with a beautiful young boy (Bjorn Andresen). The relationship is ruined by Bogarde's obsession with the boy's youth and physical perfection; the composer realizes that the child represents an ideal that he can never match. The character played by Dirk Bogarde is evidently intended to be Gustav Mahler, whose haunting music is featured on the film's soundtrack. ~ Hal Erickson, Rovi
Rating:
PG
Genre:
Directed By:
Written By:
In Theaters:
On DVD:
Runtime:
Studio:
WARNER BROTHERS PICTURES
Critic Reviews for Death in Venice
Audience Reviews for Death in Venice
I just couldn't get into "Death in Venice." Maybe I couldn't relate to the main character, or maybe I just couldn't get over the "creepy factor," but Luchino Viconti's visually stunning film was lost on me. It wasn't just that the story was weird, but that it moved at a snail's pace. I understand that this story needs time to simmer so that the main character's obsession can slowly build, but in the end I kept thinking "there was about 15 minutes of actual story during the past 130 minutes." Visconti's scenic shots paint a picture of Italian life and the pairing of this imagery creates a beautiful experience when paired with Mahler's incredible symphonic music, but in the end I can't get over the fact that nothing really happens over the course of these 2+ hours. My favorite imagery is a progression throughout the film, found in the contrast between the bustling beach at the beginning and the nearly empty beach at the end. The Cholera epidemic is such a cool backdrop, but there are thousands of interesting stories that could have been told in this setting. For any fans of Gustav Mahler, it is interesting to observe the film's direct parallels to the composer. This character isn't meant to be Mahler (particularly because Mahler was not a homosexual), but his physical resemblance and first name ("Gustav") are not a mere coincidence. Historically, we know that Thomas Mann (author of the original novel) was a huge Mahler fan, sending him a copy of one of his novels after being present at the premiere of Mahler's 8th Symphony. Mahler had left such a strong impression on the author that his death inspired Mann to include him in his story in this way. Visconti enhanced this parallel to Mahler by using his 3rd and 5th symphonies extensively in the film score. "Death in Venice" is like a painting that is filled with beautiful colors that make it difficult to look away but fails to create an emotional attachment. It was not until watching the not-so-subtle reference to this film in Ken Russell's 1974 "Mahler" that I realized the impression that the film had made on me. Perhaps it was just the use of the beautiful "Adagietto" from Mahler's 5th Symphony, but this reenactment gave me warm fuzzies and a smile as I watched the innocence of this scene develop again. Maybe there's something to this film and I'll get it next time.
Jonny Priano
Jeremy Smith
Super Reviewer
Like the sand in the hourglass, there is no stopping the passage of time. This cinematic achievement is unmatched in its visual eloquence, but remains an emotionally unsatisfying experience. Long shots, slow pans, and silence, only punctuated by Mahler's symphonies, create emotional distance. On first appearance, Aschenbach is a man already in decline: His cultured facade doesn't mask an underlying vulgarity. Alienated from his artistic and spiritual impulses, he recognizes an idealized and pure beauty in the form of a pre-pubescent boy, which does nothing to create a more sympathetic character. His realization is much too late, just as the population in Venice is dying from pestilence, and a way of life is dying at the turn of the century. As we follow the boy, it is hard to tell if Tadzio's glances, poses, and posturing are real or just Aschenbach's fantasy. During the final scene, we view the sea and sun, the promising horizon formed in the initial scene, but now glittering and hazy. Aschenbach, appearing clown-like with his whitewash and greasepaint, silently observes Tadzio pointing at the sun, and he also reaches out, as if grasping for communion, and dies. Posited on the beach, there is a symbolic, unmanned camera, ready to frame Tadzio in a snapshot. Hauntingly, the final shots rest on Aschenbach's dripping and smudged death mask, before he is toted off like the sands like garbage. There is a statement about art, beauty, sexuality, and spirituality, residing in this film, but to me it was quite dead.
Stefanie C
Super Reviewer
Death in Venice Quotes
There are no approved quotes yet for this movie.
Discussion Forum
Discuss Death in Venice on our Movie forum!