Defiance
(1980)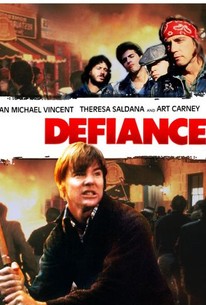 AUDIENCE SCORE
Critic Consensus: No consensus yet.
Movie Info
Although it is far from a perfectly contrived drama, Defiance has its moments of high emotions and rising fear. Tommy (Jan Michael Vincent) takes up temporary housing in a New York neighborhood plagued by a violent gang, the Souls. Tommy is waiting for his next assignment as a seaman and though he tries to avoid the gang and his neighbors, it does not work. Soon he is single-handedly battling the Souls and not only changing their attitudes, but the attitudes of his previously intimidated neighbors as well. They quickly back him up as the one person who can make the neighborhood safe again. ~ Eleanor Mannikka, Rovi
Critic Reviews for Defiance
All Critics (2) | Fresh (1) | Rotten (1)
As a WWII story, it's inspiring, and even new. As a film, it's tense and nerve-wracking and sobering. It's a simple, solid movie, worth seeing indeed, but I fear more like a satisfying Chinese dinner over time. See it before the world forgets about it.

If only it were to have an organic, sensitive screenplay that paid closer attention to its characters and focused more on their thoughts and feelings throughout their intense experiences, Defiance would have been a much more powerful and engrossing film.

Audience Reviews for Defiance
½
Not bad at all. Contains a typical 1970s way of shooting cinema and a decent storyline not unlike Death Wish.
Darrin Craig
½
Not bad at all. Contains a typical 1970s way of shooting cinema and a decent storyline not unlike Death Wish.
DC Fixx
½
At times intense action drama about a level headed seaman (Tommy) that finds a slum neighborhood needs him more than he needs them. The Souls, a Latino gang, terrorize a neighborhood. Against all his better judgement, the seaman does get involved for victims of the gang's violence. Attacked by the Souls as an outsider, he just wants to leave, but can't stay uninvolved. The police are useless. A great performance by none other that Art Carney (The Honeymooners of TV land) as a neighborhood grocer that is fed up with the tough gang Souls. He advises our sea man Vincent to stay uninvolved, but Carney in the end stands up to the Gang of slimey toughs. This film should have been titled RAGE. Defiance is just to weak a description. Lots of manufactured confrontation. It seems we go from one violent confrontation to another. Jan Micheal-Vincent stars as the reluctant warrior, just staying in this ghetto neigborhood long enough to get involved with the gang violence. Ready to ship out as he always wanted to, people are hurt by the gang or killed. While well meaning, the plot is actually a fantasy. Danny Aiello, neighborhood middle aged former gang member himself, tries to reform his aged gang members to help Tommy and fight the Souls. Wait for the final confrontation between the gang leader of the Souls, a pimp like character and Vincent. White hat and black hat. This is worthy of watching, even with its unrealistic plot. In a minor way, things like this could and do happen. But a white pretty boy like Vincent coming into town to clean it up is ridiculous. A feel good movie in the end. Cast Jan Michael Vincent Theresa Saldana Art Carney Danny Aiello Fernando Lopez Rudy Ramos Crew Director: John Flynn Cinematographer: Ric Waite Composer: Dominic Frontiere Costume Designer: Ellis Cohen Editor: David Finfer Executive Producer: Robert J. Wunsch Producer: Jerry Bruckheimer Producer: William S. Gilmore Jr. Producer: Robert J. Wunsch Production Designer: Bill Malley Screenplay: Thomas Michael Donnelly Set Decorator : Rick Gentz Songs by: Gerard McMahon Story by: Mark Tulin Story by: Thomas Michael Donnelly Associate Producer: Thomas Michael Donnelly
monsieur rick
Defiance Quotes
There are no approved quotes yet for this movie.
Discussion Forum
Discuss Defiance on our Movie forum!