Diary of a Chambermaid
(1946)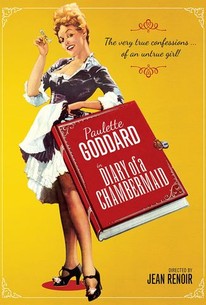 AUDIENCE SCORE
Critic Consensus: No consensus yet.
Diary of a Chambermaid Photos
Movie Info
Something of an oddity, French director Jean Renoir uses an all-Anglo cast for this sex drama. Paulette Goddard plays Celestine, a saucy servant who disrupts the Parisian household she joins. Both the head of the household, Captain Lanlaire and his son Georges fall for her, as does their neighbor Captain Mauger (Burgess Meredith, Goddard's then husband). But lovesick valet Joseph harbors a deep, secret desire for her: a desire so passionate he is willing to kill to gain her affection.
Audience Reviews for Diary of a Chambermaid
½
You know you've become a film snob when you can make sweeping generalizations based on a director. For example, this morning, I started and turned off [i]1900[/i], because Bertolucci tends to do vast, sweeping, rather dull epics. This was followed by the film we're about to discuss, [i]Le Journal d'une femme de chambre[/i], directed by Luis Buñuel. In Luis Buñuel, we have found a man who got his start in film working with Salavador Dalí on [i]Un chien andalou[/i], after all. This means, at least from what I've seen of his work (we've dabbled in it here), films that are deeply significant, though it may not always be possible to tell about what. Céléstine (Jeanne Moreau) has arrived in I'm-not-sure-where to become a chambermaid to the Monteil family. This includes the mistress of the house (Françoise Lugagne), who is strict and fussy; the master of the house (Michel Piccoli), who is rather distant and enjoys hitting on the staff, it seems; and the mistress's father, M. Rabour (Jean Ozenne), a Creepy Old Man with a foot fetish who has apparently gotten several of the chambermaids pregnant. Or maybe it's the master who did that; it was most of the way through the movie before I realized that they were two different people. In addition, there is the murder of little Claire (Dominique Sauvage). We never know for sure who did it, though we are certainly led to believe that it is Joseph (Georges Géret). Certainly Céléstine believes he did it, and she embarks on a very weird series of actions in order to ensure that he sees justice for it. It's from that point that I stopped understanding what was going on, I'm afraid, so if you watch it, you're on your own. It's well-filmed, of course; that is one thing we can count on from Buñuel. Even in his really deeply weird stuff, the filming is worth watching for. Some of the closeups of Céléstine's face alone are worth it--look, for example, at the moment where she's wearing the boots and the old man is polishing them. There is deep resignation on her face, a willingness to go along with this if this is what it takes for her life to be as comfortable as she wants it to be. On the other hand, she also seems strangely intrigued by the whole thing. It may well be how we as an audience are intended to feel, though I dislike speculating about what we're "supposed" to feel about an art film. And this is an art film. There's a story, here, but I don't feel it's really important. We are watching Céléstine. Things happen around her, but there's a limit to how much she cares--or how much we do.
Edith Nelson
½
Celestine, a French servant girl (Paulette Goddard), decides she's had enough of kowtowing to her masters, struggles with the gold-digging side of her nature, and eventually crashes through the class barrier to find true love, symbolically on Bastille Day. Renoir's American movies are generally not up to the standard of his best work, and "Diary of a Chambermaid" is no exception. Tonally it is rather uneven, and one suspects that a lightening or a darkening of Burgess Meredith's script could equally have improved it. Although they're never remotely convincing, the 'exterior' sets are quite grand, and Renoir makes good use of them with his fluid camerawork. The cast is good: Goddard as Celestine, Meredith as an impish ball of energy and Judith Anderson (Hitchcock's Mrs Danvers from "Rebecca") as an indomitable matriarch. Francis Lederer and Hurd Hatfield, as two of Goddard's suitors, a wicked valet and a consumptive aristocrat, respectively, each deliver their lines rather stiffly, but each, also, has a magnetic screen presence.
Diary of a Chambermaid Quotes
There are no approved quotes yet for this movie.
Discussion Forum
Discuss Diary of a Chambermaid on our Movie forum!