Distant Thunder
(1988)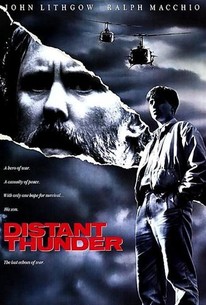 Movie Info
Discharged from Vietnam, John Lithgow and his army buddies have trouble fitting into a hostile home-front society. Rather than endure dirty looks and taunts of "baby killer," Lithgow and his friends wander aimlessly all through the Pacific Northwest. Several years pass, during which time Lithgow's estranged son Ralph Maccio grows to manhood. Finally emerging from his self-imposed exile, Lithgow begins searching for the son he's never known.
Critic Reviews for Distant Thunder
All Critics (6) | Top Critics (1) | Fresh (3) | Rotten (3)
Cliched film about Post Traumatic Stress Disorder, but with surprisingly strong performances by Lithgow and Macchio.
Lithgow's raw performance helps to counteract the run-of-the-mill plot.

Audience Reviews for Distant Thunder
½
This film is very powerful and has many lessons that can be learned from it also. Ralph Macchio and John Lithgow give powerful performances. It is somewhat hard to stay interested in untill the last 30 minutes of the movie. All in all, a captivating film.
matt vanbuskirk
I had never heard of this movie but I decided to get it because it has a great cast. John Lithgow, Ralph Macchio and Reb Brown. I had no real expectations and seeing how very few people atleast on Netflix, facebook and IMDB have rated this it was very surprising. Figuring that Ralph Macchio and John Lithgow are not unknown actors and the film felt like it had a budget. Anyway, I really did enjoy this movie. It has great cinematography and great acting. The vietnam scenes and the woods parts are shot well. I am confused to why it is not more widely known. It is taken seriously and the story is compelling. The relationship between Lithgow and Macchio is pretty unique. Overall, I was pleasantly surprised at this movie and I did enjoy it a lot. It is different than other films and I guess it being kind of low on the radar makes it all the more compelling.
Matthew Marks
The action seemed to drag and I found myself getting restless and eager for this film to end. The relationships between the characters barely carried this movie, but whether that was more the result of the acting or writing is hard to say. Even if the situation depicted here is based on some kind of truth - a combat veteran so traumatized by his experience that he cannot function in day-to-day society, so he lives a life of isolation in the mountains - it still seems too remote and far-fetched to be taken seriously. How many Vietnam vets took to the hills anyway?
Matt Gilbert
Distant Thunder Quotes
There are no approved quotes yet for this movie.
Discussion Forum
Discuss Distant Thunder on our Movie forum!