Kvinnodröm (Dreams) (Journey Into Autumn)
(1955)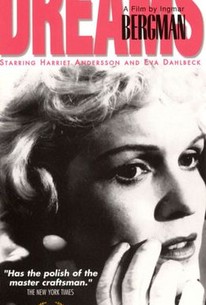 Kvinnodröm (Dreams) (Journey Into Autumn) Photos
Movie Info
In this drama, also released under the title Journey into Autumn, a business trip reveals the hopes, dreams, and struggles of modeling agency owner Susanne (Eva Dahlbeck) and promising young model Doris (Harriet Andersson). This film is in Swedish with English subtitles.
Critic Reviews for Kvinnodröm (Dreams) (Journey Into Autumn)
Audience Reviews for Kvinnodröm (Dreams) (Journey Into Autumn)
½
Em uma produção do início de sua carreira, o diretor sueco examina um de seus temas favoritos: a psique da mente feminina. Mais uma vez o cinema de personagem do mestre domina, e examinamos o dia de duas mulheres de personalidades distintas, mas com problemas amorosos semelhantes. A jovem e superficial modelo Doris (Harriet Andersson) abandona o namorado pobre e se deixa encantar por um senhor de idade que lhe enche de presentes. Já a segura e profissional fotógrafa de moda Susanne (Eva Dalbeck) tenta dar continuidade ao caso que tinha com seu amante casado, apenas para ser puxada à realidade pela esposa do mesmo. Como o título sugere, Sonho de Mulheres joga a luz sobre a alma feminina, sendo que os homens da história são figuras fracas que deixam seus destinos serem controlados pelas mulheres em sua volta (uma bela composição mostra o marido de costas para a câmera cercado pela esposa e amante em primeiro plano discutindo o seu futuro). Como é característico do diretor, o lado escuro da personalidade humana também é posto em envidência, expondo até mesmo a face sombria de suas protagonistas. Assim como a história, o filme é uma produção minimalista, sem o uso das composições ousadas que marcariam a obra de Bergman e sem mesmo apresentar uma trilha sonora. O que realmente prevalece é a maestria em sua direção de atores e o seu domínio sobre a forma cinematográfica. Um filme menor mas não menos importante.
Matheus Carvalho
Super Reviewer
½
A very minor Bergman work, the film has traces of his style, especially in the first few scenes with quick edits and close-ups to draw attention to detail, as well as a well-filmed roller coaster ride. However, the screenplay does not match the quality of the directing, with basically two stories that do not gel all that well together. What the film is meant to be a study of is never clearly focused, with themes of desire as well as women's liberation both present. The middle section of the film dragged a little too, but still it is interesting to see such an early piece of work from Bergman. It is not much compared to what would later come in his career, but the film has enough interesting elements to certainly make it worth a look.
Cassandra Maples
Super Reviewer
½
Saying its a lesser Bergman is like saying its the best from another director.
Anthony Valletta
Super Reviewer
Kvinnodröm (Dreams) (Journey Into Autumn) Quotes
There are no approved quotes yet for this movie.