Eat My Dust!
(1976)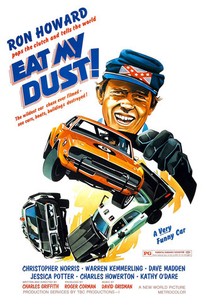 AUDIENCE SCORE
Critic Consensus: No consensus yet.
Movie Info
Charles B. Griffith, author of +Little Shop of Horrors, was the writer/director of the low-budget Eat My Dust!. Ron Howard heads the cast as Hoover Niebold, the hell-raising son of rural sheriff Harry Niebold (Warren Kemmerling). The sheriff is forced to chase after his own son when Hoover and his girlfriend Darlene (Christopher Norris) steal a racing car and zoom off to parts unknown. Joining the pursuit is the car's owner, professional racer Big Bubba Jones (Dave Madden). Watch for Ron Howard's dad Rance and brother Clint in supporting parts, and also for Paul Bartel in a bit role.
Audience Reviews for Eat My Dust!
There's whiskey and blood on the pavement. Darlene is the hottest girl in town and Hoover has obtained the hottest car in town. Hoover will do anything to impress Darlene so they go on a wild ride of fun and breaking the law. Things get hot, but misinterpreted. There is an obvious short term connection based on the ongoing events, but can Hoover turn this into a long term relationship? "I'm not impressed by reckless driving." Charles Griffith, director of Forbidden Island, The Little Shop of Horrors, Up from the Depths, Smokey Bites and Dust, and Wizards of the Lost Kingdom II, delivers Eat My Dust. The storyline for this picture is fairly straightforward and reminded me for Grand Theft Auto (also with Howard) or The van. The cast includes Ron Howard, Clint Howard, Charles Howerton, and Christopher Norris. "Just because I have a stupid name doesn't mean I'm not worth going with." I am a huge grindhouse movie fan and have been dying to see this for some time. I finally got around to watching this and felt it was just okay (a little like Two-Lane Blacktop). This isn't a classic like Vanishing Point but is a fun movie for the time (more like The Van). Overall, I recommend seeing this if you're a fan of the muscle car or grindhouse genres. "They are not dangerous." Grade: C+
Kevin Robbins
½
Mindless fluff, certainly nothing deep or meaningful here. Lots of car chases, very fast paced, good cinematography and of course lots of dust! The cast is fine, very 1970's.
James Higgins
Eat My Dust! Quotes
There are no approved quotes yet for this movie.
Discussion Forum
Discuss Eat My Dust! on our Movie forum!