Feds
(1988)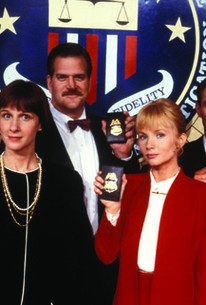 Movie Info
Gutsy ex-Marine Ellie DeWitt (Rebecca DeMornay) and bookish Bryn Mawr-graduate Janis Zuckerman (Mary Gross) have two things in common. Both are ardent supporters of the Reagan administration, and both aspire to a career in law enforcement. This is the unifying link that brings Ellie and Janis to the FBI training center in Quantico. Bucking male chauvinism and their own occasional loss of self-esteem, the ladies become top-notch federal agents. Except for a few cheap shots at the Republican Party, Feds is surprisingly reverent to such government institutions as the FBI. While this would be well and good in a straight drama, it's the kiss of death for a comedy -- if indeed, this is a comedy.
Rating:
PG-13 (adult situations/language, violence)
Genre:
Directed By:
Written By:
In Theaters:
Runtime:
Studio:
Warner Home Video
Audience Reviews for Feds
½
If I had never seen it years ago, I would probably look at it today with a sense of "I'll never see this piece of crap!" and would have written it off as such with a "Not Interested" rating. Granted, it's been at least 10 years and I probably should see it again to see if its age has worn any but, I remember it enough to give it a solid rating with stars. It is funnier than what I would have thought it to be if I had never seen it.
Morpheus One
I Just LOVE FED"S It Is A Classic 80* feel good comedy ...Basic Training In The FBI With Two Wimen ... Mary Gross Is What makes this Soo Great!!! She has a funny innocents about her ..Fave Part When they get drunk and Agent Janis Zuckerman (Mary Gross) Rips That mans shirt of and is fetishing all over his Tattoo LMAO I was Rollin... Great Movie ;p
angel marth
½
This movie is amazing. I used to watch it all the time with my sister and just remember it beeing absolutely fantastic.
Rachel Reinecke
Feds Quotes
There are no approved quotes yet for this movie.
Discussion Forum
Discuss Feds on our Movie forum!