The Fog
(1979)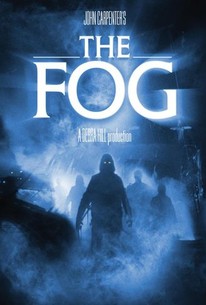 Movie Info
A weather-beaten old fisherman tells an ancient tale of betrayal and death to fascinated children as they huddle together by their campfire. As a piece of driftwood in a child's hand glows with spectral light an eerie fog envelops the bay, and from it's midst emerge dripping demonic victims of a century old shipwreck...seeking revenge against a small California coastal town.
Rating:
R (N/A)
Genre:
Directed By:
Written By:
In Theaters:
On DVD:
Runtime:
Studio:
AVCO Embassy Pictures
News & Interviews for The Fog
Critic Reviews for The Fog
Audience Reviews for The Fog
A simple but effective horror movie with an atmospheric score and some good scares even if the script is sometimes illogical and full of plot holes. Besides, it proves that showing dead people knocking on doors before entering can be really scary (apart from hilarious).
Carlos Magalhães
Super Reviewer
½
Filmed two years after the success of 'Halloween' and the kick off for Carpenter's cult movie making career. A cute little horror flick this, a nice old fashioned spooky sea yarn that wouldn't look outta place as a Scooby Doo plot if done that way. Overall a very basic film with bottom of the barrel effects clearly done on a shoestring yet it still works effectively. I love the mist effects in this film as they remind me of many old classic black n white horror's. A really nice kind of 'Twilight Zone' feel about the proceedings that gives great atmosphere and a decent chill to the bone with all the misty cold dusk vista's. As said the film is very basic but offers nice creativity on all counts. The nasty spooky ghosts are merely actors in dark clothes and shot in silhouette, the odd bit of seaweed draped on their arms and leader Captain Blake has glowing red eyes. They simply turn up with the fog and knock on peoples doors hoping to be let in so they can kill you...how polite! Of course the cast is a classic line up of character actors, some of which Carpenter used for his previous popular horror flick, I don't need to mention them do I. Although personally I wouldn't have used Curtis again, bit samey. I like this film very much, it has a great eerie factor with a plain and simple plot, no silly frills, a pure quality ghost story of old. Loved the use of a smoke machine to pump in the menacing fog at the required moments, so very cheap n obvious but so very cool.
Phil Hubbs
Super Reviewer
½
"All that we see or seem is but a dream within a dream." Edgar Allen Poe Deadly ghosts of murdered lepers come out of fog banks to terrorize the small Northern California town Antonio Bay(Point Reyes). Adrienne Barbeau stars as a radio jockey(Stevie Wayne) with a son that is told a "ghost" story of what essentially transpires by the late/great John Housemen who portrays a grizzled old salt(Machen) . This sets the mood for the film perfectly with his unique voice tone. John Carpenter's brilliant soundtrack work enhances the eerie premise as well. His cameo as assistant to Father Malone(Hal Holbrook) is silly, but I wouldn't put it past him to intentionally be bad for a certain effect. Regardless, he's one hell of a great horror filmmaker and cool guy. And hey, we even get the scream queen Jamie Lee Curtis in this one.
The Fog Quotes
| | |
| --- | --- |
| Kathy Williams: | Sandy, you're the only person I know who can make "Yes, Ma'am" sound like "screw you". |
| Kathy Williams: | Sandy, you're the only person I know who can make 'Yes, Ma'am' sound like 'screw you'. |
| Sandy Fadel: | Yes, Ma'am. |
| | |
| --- | --- |
| Father Malone: | "Blake, I have your gold. My grandfather stole it from you. I'm the one who must answer for it." |
| Father Malone: | Blake, I have your gold. My grandfather stole it from you. I'm the one who must answer for it. |