Girls! Girls! Girls!
(1962)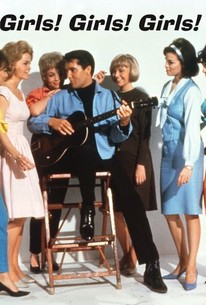 Girls! Girls! Girls! Photos
Movie Info
Ross Carpenter (Elvis Presley) is a poor fisherman trying to save enough money to buy back a boat built by his father. He falls for pretty nightclub singer Robin (Stella Stevens), a poor little rich girl who hides her affluent family ties. Ross has a rival for Robins affections in Jeremy Slate (Wesley Johnson), a wealthy weasel with a lecherous leer and the amorous arms of an octopus. Another frenzied female after Ross is Laurel (Laurel Dodge), who Ross saves from the amphibious tentacles of Jeremy before she falls in love with Ross. A dozen songs are features in this Hawaiian setting, the most notable being the Otis Blackwell and Winfield Scott classic "Return To Sender." This was the fourth film for the pill popping Presley in 1962, who would keep up this furious pace of largely forgettable films until returning to the live performances that launched him to super stardom. Background vocals are provided by The Jordanaires.
Critic Reviews for Girls! Girls! Girls!
Audience Reviews for Girls! Girls! Girls!
Silly plot, a lot of music including Return to Sender and colorful locations add up to a standard Elvis flick. Far from his worst but an equal distance from his best. Stella Stevens is wasted in the second female lead, anytime she shows up she elevates the movie to another level unfortunately that isn't nearly enough.
As you can tell by reading the synopsis on here, this movie has many faults, but if you're an Elvis fan you can't help not enjoying it anyway. This movie is okay, although on the fluffy side.
Girls! Girls! Girls! Quotes
There are no approved quotes yet for this movie.