Gone in 60 Seconds
(1974)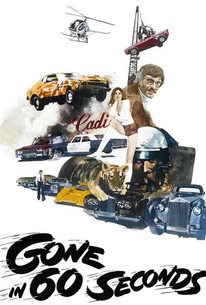 Gone in 60 Seconds Photos
Movie Info
Insurance investigator Maindrian Pace and his team lead double-lives as unstoppable car thieves. When a South American drug lord pays Pace to steal 48 cars for him, all but one, a 1973 Ford Mustang, are in the bag. As Pace prepares to rip-off the fastback, codenamed "Eleanor", in Long Beach, he is unaware that his boss has tipped off the police after a business dispute. Detectives are waiting and pursue Pace through five cities as he desperately tries to get away.
Critic Reviews for Gone in 60 Seconds
Audience Reviews for Gone in 60 Seconds
½
The classic Gone in 60 Seconds is a decent car chase film, but its nothing that great to be honest. The film is memorable of course for the car chase scene that spans half the film, and features the destruction of 93 cars. The film though entertaining, lacks anything really intriguing about the plot. The acting is average, and it's nothing great. The films plot is very thin, and not elaborate. I felt that this film was entertaining, but it was also sloppy in its style. I can applaud the effort of the crew for attempting this low budget film, and it pays off slightly. Bur like I said, the film lacks effective material to really make it a stellar film. I mean, they could've added more depth to the overall plot. That's my biggest beef with the film, its lack of effective plot development. I guess with that aside, there's a cool little film to enjoy. But it's flawed, and overall there are better car chase films than this film. After seeing the famous chase, I wasn't really in awe. I still think the most legendary car chase is the one in Bullitt. For what it is, Gone in 60 Seconds is an impressive low budget car chase film, and there are lots of cool cars. However the film lacks in effective plot development and acting. The film can be summarized as such, the thieves get together and get their list of cars they need to steal and after they start to steal the cars, then there's the famous chase, and the end credits. Not too much substance. But decent, mindless fun, if this is your type of film.
Believe me when I tell you this...the 2000 version with Angelina Jolie and Nicholas Cage doesn't even come close. The 2000 remake of this was a piece of CGI garbage compared to the original from 1974. The original movie "Gone in 60 Seconds" is an amazing ode to the American muscle car and an era of filmmaking that is long since past. The stunts in this movie were real and during the filming of this some people were seriously injured and almost killed during the making of this movie. And speaking of its infamous chase scene,"Gone in 60 Seconds" ranks right up there with "Bullitt",and "The French Connection" as one of the greatest car chase movies ever made. This movie contains something that the remake doesn't,ACTUAL CAR CHASES. The stunts in this movie were 100% real,and a good majority of the scenes were UNSCRIPTED where H.B. Halicki did not only the producing and directing,but did his own stunt driving in this movie in which 95% of the actors along with the local police,paramedics,and pedestrians that were REALLY running for their very lives. The most infamous scene was the car chase through the streets of the city where a total of 93 cars were destroyed during the making of it. Some of the auto stunts(including Halicki's driving scenes)were nothing short of amazing where the entire second half of the film(which is 45 minutes long)is devoted to one single car chase. The climax of the film is a brilliant car chase through the city between a suped-up 1973 Mustang(driven by Halicki) and every cop and state trooper in hot pursuit. Nothing short of amazing. "Gone in 60 Seconds" did not have a major film studio backing in,since it was produced independently,and went on to become a HUGE boxoffice hit that was a success within the drive-in theatre crowd.
Mister Caple
Super Reviewer
Gone in 60 Seconds Quotes
There are no approved quotes yet for this movie.