Grave Secrets
(1989)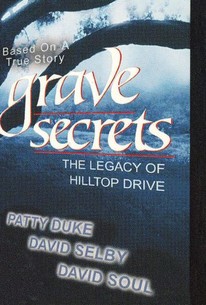 AUDIENCE SCORE
Critic Consensus: No consensus yet.
Movie Info
When a young woman believes that she is being controlled by spirits, she hires a parapsychologist to root out the source of her torment.
Critic Reviews for Grave Secrets
There are no critic reviews yet for Grave Secrets. Keep checking Rotten Tomatoes for updates!
Audience Reviews for Grave Secrets
Grave Secrets (Donald P. Borchers, 1989) The IMDB trivia section for Grave Secrets, also known as Secret Screams (under which title it is as I write this available on Netflix Instant Streaming), is the directorial debut of producer Donald P. Borchers. It neglects to mention that Borchers would direct just two more films in the following two decades. Once you've seen Grave Secrets, you will find it all too easy to understand why. Plot: Iris Norwood (Abwärts' Renée Soutendijk) has inherited an old bed and breakfast that is rumored to be haunted. She calls in local psychic David Shaw (The Long Shot's Paul Le Mat) to investigate. At first, Shaw is skeptical that anything is really going on in the house, but as the sexual tension grows between the two, Shaw slowly becomes convinced that something is, indeed, going on. (I didn't mean to imply those two things are connected. The film may have meant to imply this, but if so, it failed.) The best way to describe this is a basement-budget ripoff of the underrated 1980 fright classic The Entity, but if The Entity had been a made-for-TV movie that did nothing in the way of boundary-pushing and relied on ridiculously bad special effects instead of atmosphere to generate what few jumps it has. At least it stopped before revealing the oh-so-prediectable secret relationship between the bad guy and...DAMMIT. Really, as with pretty much every movie containing Paul Le Mat, you would do very well to stay away from this one. * Not hugely related to the film, but should be mentioned because of a title mix-up at Amazon: please note this is not the 1992 TV movie starring Patty Duke. It was released three years earlier and is a theatrical release.
Robert Beveridge
Apparently, Flixter does not deem Grave Secrets (or Secret Screams as I saw it) worthy of an image, and frankly I must concur with this judgment. Abysmal acting, a worthless script, zero scares, and a complete lack of anything resembling a horror film aesthetic make Grave Secrets a film only worthy of the graveyard. An absolutely worthless piece of garbage that might only find redemption as an MST3K episode.
Al Miller
Grave Secrets Quotes
There are no approved quotes yet for this movie.
Discussion Forum
Discuss Grave Secrets on our Movie forum!