Greed
(1925)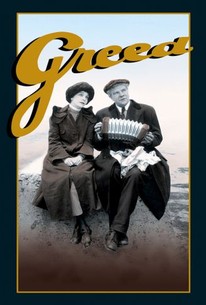 Movie Info
No one living can say whether the original, ten-hour version of Erich von Stroheim's most famous movie was the epic masterpiece it was touted to be. The 140-minute version is all that remains, and while it's only a quarter of the film it was meant to be, it's still one of the greatest accomplishments of the silent film era. Based on the turn-of-the-century novel McTeague by Frank Norris, Greed takes place primarily in the San Francisco of the early 1900's. McTeague (Gibson Gowland), a brutish, earthy man comes to practice dentistry in the lower-middle-class Polk Street district. There he meets and befriends Marcus Schouler (Jean Hersholt). One day Marcus brings in his cousin and girlfriend, Trina Sieppe (Zasu Pitts) for some dental work. A romance between McTeague and Trina gradually ensues, and Marcus graciously steps aside -- until he discovers that Trina has won 5000 dollars in a lottery. He jealously watches as Trina and McTeague get married. But all is not well with the couple -- Trina holds onto her winnings for dear life, refusing to let go of a cent, even when they are forced to live in reduced circumstances because McTeague has lost his practice (Marcus has turned him in for not having a license). McTeague takes to drink as he and Trina sink into poverty and violent arguments break out between them. Finally McTeague leaves his miserly wife, who is now working as a charwoman during the day while gloating over her gold coins at night. But he later returns, intoxicated, to her squalid room and murders her, escaping with her money. He flees across the desert, pursued by a posse which includes Marcus, who still lusts after the gold. The two finally meet up on the cracked, overheated salt flats and fight to the death. But as McTeague gives Marcus the fatal blow, Marcus snaps his handcuffs around McTeague's wrist. Thus, McTeague must die in the middle of the desert, cuffed to the dead Marcus with the gold by his side. As Norris's novel was a protest against the elaborate fluff that was popular reading during the end of the 19th century, Greed was a protest against the pretentiousness and glamour that was part and parcel of Hollywood in the '20s. Nevertheless, it is a stunning visual work, and the overall sordidness of the film has a dreamy, rather nightmarish aura. Out of any American director of his era, only von Stroheim could have found such beauty in ugliness and created such fascination for the commonplace. He shot Greed with utter faithfulness to the Norris book and proposed to run the lengthy film on more than one evening, but the idea was far ahead of its time and the releasing studio, MetroGoldwyn-Mayer, insisted on radical trimming. Some of the cuts are tragic -- the introduction of McTeague's character makes him seem particularly loutish, and later it is difficult to tell whether Trina is merely a prim Victorian maiden, or if she is truly repulsed by the advances of her husband-to-be. The loss of various subplots will also be cause for eternal speculation by film historians. However, enough of Greed remains to prove that von Stroheim was an early example of an auteur par excellence.
Rating:
NR
Genre:
Directed By:
Written By:
In Theaters:
Runtime:
Studio:
Warner Home Video
Audience Reviews for Greed
An impressive achievement leaves one wondering what was lost from Von Stroheim's original nine hour epic original. What's left is compelling with great work from ZaSu Pitts as the rapacious Trina.
½
This rating is for the 4 hour restored cut. I am definitely going to watch the shorter version as well, easily amongst my favorite silent films ever.
Michael Stuhlman
Perhaps if I were to see the entire 9 hours of the original cut, I might have liked it a bit more. It is a powerful film - with images that stay in your mind and tap at your heart after seeing it. However, it just doesn't come across as realistic in many places, and it's overly melodramatic - even for a melodramatic film. After watching the 4 1/2 hour "La Roue" I can see the benefits in spending more time with the characters when they don't "speak" for themselves . . . it simply takes more time to build empathy and identification and overlook the melodrama. When Marcus "gives up" his sweetheart to McTeague, it simply doesn't ring true . . . and Trina and McTeague's relationship is bizarre from the beginning. McTeague always coming across as a stalker or serial killer and Trina looking terrified that he might touch her. It doesn't make any sense as to why they would have gotten married in the first place. Maybe the missing footage fleshed it out more - but a lot of it has to do with the direction and acting. It's hard to watch. Once Trina becomes obsessed with the gold the film takes on a much more realistic and dynamic quality . . . and the final third of the film makes a strong statement which is quite haunting.
Scott Fugate
Greed Quotes
There are no approved quotes yet for this movie.
Discussion Forum
Discuss Greed on our Movie forum!