The Group
(1966)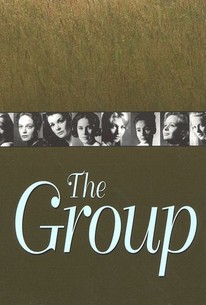 AUDIENCE SCORE
Critic Consensus: No consensus yet.
Movie Info
Based on the novel by Mary McCarthy, The Group was one of the slickest, and most highly publicized, cinematic soap operas of the 1960s. Filmed largely in New York, the story charts the exploits of eight young women, all of whom graduate from an exclusive Vassar-ish college in the middle of the Depression. Among the talented young actresses making their screen debuts herein are Candice Bergen as Lakey, the group's resident Lesbian; Joan Hackett as Dottie, a repressed socialite who takes up with bohemian artist Dick Brown (Richard Mulligan); Joanna Pettet as Kay, who marries philandering playwright Harald Peterson (Larry Hagman); and Kathleen Widdoes as Helena, the wealthiest of the girls who insists upon proving her value in the workplace. The other girls are Pokey (Marin-Robin Redd), who seems happiest when pregnant; Jessica Walter as Libby, the group's viper-tongued gossip and the darling of the Manhattan literary set (some have suggested that McCarthy based this character on herself); Elizabeth Hartman as Priss, the requisite heart-on-sleeve liberal; and Shirley Knight as Polly, whose bumpy love life culminates in a very colorful engagement party. Hal Holbrook, likewise making his first screen appearance, plays Gus LeRoy. Sumptuously produced, The Group is a bit empty dramatically, though the sheer volume of continuing characters manages to sustain audience interest. (Incidentally, here's a note for "blooper" spotters: wasn't the Pan Am building constructed in the 1950s? )
Rating:
PG
Genre:
Directed By:
Written By:
In Theaters:
Runtime:
Studio:
United Artists
Audience Reviews for The Group
The film is at least 1/2 hour too long. While screenwriter Sidney Buchman tries his best to do justice to all the subplots in the story, eight protagonists is - ultimately - too many.
Lee Mayo
½
★★1/2 (out of four) Though there is a bit of a guilty pleasure in here, the soap opera story is just a bit too much for me. The film is loaded with a bunch of up and coming actress, including Candice Bergen, Shirley Knight, Jessica Walter, Joan Hackett, and Elizabeth Hartman. Based on the popular book by MaryMcCarthy group of young women go through college together and graduate from an esteemed girl's college in the northeast. From there each of there lives take different paths in love and adventure. Not bad, it gets old after awhile. [IMG]http://img.photobucket.com/albums/v48/Zeppo1/Group.jpg[/IMG]
Steve Smith
½
(1966 Director: Sidney Lumet) Only a select few of the many movies I have viewed make it to my "Must See" list, but this is definitely one of them! Although it begins as something of a creeper, old-fashioned and slower moving, the pace quickens as the lives of 8 close female college friends from the Class of '33 change and progress. All attended an elite women's college, which does, of course, make them far from the norm of their day (the 1930's up through 1941 and the declaration of war). Director Sidney Lumet follows the lives of . Obviously, these are women from privileged families, beautiful women each of them, with strong friendships between them. I hadn't reaized there 8 in total until near the end of the film, when one of the last "hold-outs" finally marries a charming and successful man, and her new husband announces, "WIen I married I didn't realize I was marrying my wife and her 7 friends!" Some smashing performances, including the performance of Larry Hagman who co-stars as the alcoholic actor/writer husband of Kay (Joanna Pettet), a vibrant and politically minded young lady. Larry descends into the depths of his alcoholism, cheating and eventually turning to physical abuse of Kay, something Kay has kept a secret from even her close friends. Several of these women do marry and at least 3 have children. The rest either do not marry very young or remain childless, a situation somewhat unusual for a woman if you consider the time period==which by the way is pre--WW II! [more review to follow]
The Group Quotes
There are no approved quotes yet for this movie.