The Guardian
(1984)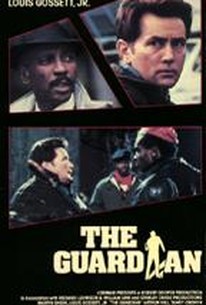 AUDIENCE SCORE
Critic Consensus: No consensus yet.
Movie Info
The Guardian is set in an upper-class New York apartment building, recently plagued by a series of break-ins and murders. The tenants eagerly enlist the services of former military officer John Mack (Louis Gossett Jr.) as the building's head of security. Slowly but surely, the tenants give up their freedom of movement to Mack, who runs the place like his own private fiefdom. Bristling over this infringement upon his rights, liberal-minded tenant Charles Hyatt (Martin Sheen) begins to suspect that the killings were orchestrated by Mack himself as a means of gaining power over his employers. Stirring up a respectable amount of suspense, the made-for-cable The Guardian debuted October 20, 1984, over the HBO service.
Critic Reviews for The Guardian
There are no critic reviews yet for The Guardian. Keep checking Rotten Tomatoes for updates!
Audience Reviews for The Guardian
HBO exceptional suspense thriller. Terrorized apartment dwellers search for safety but lose their freedom. Held in terror not by crime but by a hired gun called The Guardian. For those interested, a good watch. [img]https://encrypted-tbn2.gstatic.com/images?q=tbn:ANd9GcTS9dQ3l22-zKMnf_WUUwS0o6zNBkeBcW3GJFzbrJtFUd5XB60o[/img] "The residents of a New York apartment building are shocked when one of them is shot during a burglary. They decide to hire a security expert to patrol the building, but he seems a little over-committed to his work." [img]https://encrypted-tbn3.gstatic.com/images?q=tbn:ANd9GcTLXDx7MNgTKkjchbwgolYM9qeT9CFunNI1OV0iIdEayRhIp2Aa[/img] ''THE GUARDIAN,'' a cable- TV movie starring Martin Sheen and Louis Gosset Jr., is a walloping puzzle. Made as a Home Box Office ''Premiere Film''---- By JOHN J. O'CONNOR Published: October 25, 1984 ''The Guardian'' may want to provoke debate but it ends up looking like an irritating exercise in titillation. [img]https://encrypted-tbn2.gstatic.com/images?q=tbn:ANd9GcTihciQ9OHzvB0Std8HT2oLmhFRUPjTyKBLVaKVJCzjt_laS05tDA[/img] SEE the trailer here: www.youtube.com/watch?v=A2NlBW-c-sY SEE the entire film here: https://www.youtube.com/watch?v=lThyQjQ6fp4 Director: David Greene Writers: Richard Levinson, William Link Stars: Martin Sheen, Louis Gossett Jr., Arthur Hill [img]https://encrypted-tbn2.gstatic.com/images?q=tbn:ANd9GcSv6Y5muNORrZswED5ZNREqWoUKrfGgyKqIA8hv5zqkLBl0NGbl[/img]
monsieur rick
The Guardian Quotes
There are no approved quotes yet for this movie.
Discussion Forum
Discuss The Guardian on our Movie forum!