Cannon Movie Tales: Hansel and Gretel
(1987)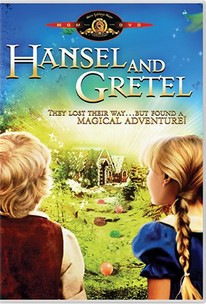 AUDIENCE SCORE
Critic Consensus: No consensus yet.
Movie Info
Based on the fairy tale by The Brothers Grimm. Hansel and Gretel are trapped in the deceptively decorated house of the witch Griselda who wishes to fatten Hansel so that he may be baked into a delicious gingerbread treat.
Rating:
G
Genre:
, ,
Directed By:
On DVD:
Runtime:
Critic Reviews for Cannon Movie Tales: Hansel and Gretel
There are no critic reviews yet for Cannon Movie Tales: Hansel and Gretel. Keep checking Rotten Tomatoes for updates!
Audience Reviews for Cannon Movie Tales: Hansel and Gretel
This is truly an amazing film. My favorite version of Hansel and Gretel by far. I have been watching this since I was little and it has only gotten better over time. The sets are beautiful, the script is perfect, the acting is phenomenal.
Juliana Harkavy
Well told story about the story of Hansel and Gretel. I thought the kids were absolutely adorable. The singing was nice. Glad they were able to escape. :)
Jennifer Torres
½
Len Talan's 1987 live action version of the popular fable "Hansel and Gretel" is different from what I remembered it to be. When I was younger, this movie used to scare the hell out of me for some reason. Seeing that it was a recommendation on my Netflix list, I decided to rent this one and revisit with it. Turns out there is very little to this film to be scared of, and it isn't particularly the greatest adaptation of this story either. Call me a big softy though, but I couldn't help but still find a lot of fun with this film. Probably my biggest complaint with this film is how it plays it safe with the story of Hansel and Gretel. I remember hearing this story, and knowing that these two children were abandoned in the woods. In this live action film, they get lost there on their own (though they were sent into the woods by their mother as part of a punishment after her custard was ruined). But once they stumble on the witch that lives in these woods, the story takes a turn for the better and is relatively close to the source material. Cloris Leachman, who looks ridiculous in the make-up she wears in the film, was a great choice to play the witch that lures these two children into her home. She was great when she appeared as a kindly old woman, and made a perfect transformation into the disfigured and sinister child eating witch that she actually is. I used to be afraid of the witch of this film, but knowing that it is Leachman in the role it's kind of hard to still be afraid of her. Still, good performance by Leachman. Both Hugh Pollard, as Hansel, and Nicola Stapleton, as Gretel, were formidable choices for the two leads of this film. I didn't remember there being music and dance numbers in this film. Both Pollard and Stapleton play a part in the majority of the music numbers, and I really enjoyed their singing and dancing abilities. And seeing these two characters having to deal with the possibility of being eaten by this witch, and the way these two youngsters handle themselves in the film made for performances that you can connect with. I may have forgotten a lot about this film, but there were two things I did remember. First, the look of the witch's gingerbread home and how cool that looked. And then there were the gingerbread children in the yard, which turned out to be previous children this witch has abducted. Other than these, and the few things I've mentioned in previous paragraphs, there really isn't much to this film. I like the film, but it is in no way like the original story.
Bryan Gomez
Cannon Movie Tales: Hansel and Gretel Quotes
There are no approved quotes yet for this movie.
Discussion Forum
Discuss Cannon Movie Tales: Hansel and Gretel on our Movie forum!