Heavy Petting
(1989)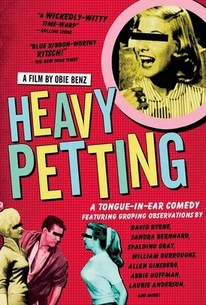 AUDIENCE SCORE
Critic Consensus: No consensus yet.
Movie Info
Famous baby boomers who lived through the Sexual Revolution recall their sexual awakening during the squeaky-clean 1950s. The hilarious recollections -- courtesy of David Byrne, Spalding Gray, Sandra Bernhard, Abbie Hoffman, Allen Ginsberg and others -- are accompanied by kitschy clips of '50s sex ed videos. Obie Benz's witty, fast-paced documentary was a Grand Jury Prize nominee at the 1989 Sundance Film Festival.
Audience Reviews for Heavy Petting
A fun look at sexual attitudes in the 50s and 60s, accompanied by commentary from people such as Allen Ginsberg, David Byrne, Abbie Hoffman and others. The archival footage (sexual educations films, military films, propaganda, and clips from features) is fun, and the interviews are light, but amiable. Nothing in-depth, but a light-hearted look at sexuality, both what was being taught, and what some individuals experienced first-hand.
Caleb McCandless
Interviews with a bunch of minor players in Hollywood about their sexual awakenings, especially during the 60s. The only interesting parts were clips from sex-ed vids that were inter-spliced between the talking heads. I would have liked to see longer clips and more of those; some really need an MST3K treatment, but are unintentionally hilarious on their own.
D M
As with any documentary about the social aspects of the 1950s, there are many, many clips of the educational films of the era. It's just the nature of the thing. And, of course, any fan of [i]Mystery Science Theater 3000[/i] will recognize some of them almost without fail. Mostly, they pop up in ones about the women's rights movement--that clip of the magic oven that puts candles on a baking cake is a popular one. (That's "Design for Dreaming," for the curious.) "Mr. B Natural," not so much. However, this one includes a brief clip from the ever-popular "What to Do on a Date." It's the bit where Nick, having found Jeff's cheat sheet, throws a list of possible group activites to Kaye for a date--all of which are through the local community center and few of which will actually cost Nick or Kaye anything. So hurrah for Nick and Kaye, I guess. It's hardly surprising news that the sexual attitudes of the fifties became outdated awfully fast. It's also no surprise that a lot of people didn't exactly strictly abide by the spoken moral code. If they had, there wouldn't be a need for all of those films telling people how to follow the rules and to scare them about what would happen if they didn't. This documentary shows us clips from many of those films and interviews with various people who lived through those times, albeit at varying ages. They range anywhere from William S. Burroughs, born 1914, to Ann Magnuson, born 1956. (Obviously, these attitudes carried into the early sixties, but I'm really not sure what someone that young is doing in this film.) Indeed, one of the women (Judith Malina, I think, though she isn't credited on the IMDB page) tells of her mother's slightly hysterical reaction to the woman's pregnancy. Now, I'm quite a fan of the "clips and interviews" style of documentary. One of my favourite documentaries, in fact, is [i]The Celluloid Closet[/i]. I don't even mind that the clips here are uncredited and uncommented on. It doesn't bother me that none of the interviewees are asked about what influence these films had on them. No big deal. No, I don't like Sandra Bernhard, but she's only onscreen for a very few minutes, and she's more than countered by the lengthy clips of Abbie Hoffman. However, what I don't like is how these people have been filmed. These people are sitting in shadows, almost implying that they should be ashamed of their frankness. Much of the interview footage is quieter than the music or the clips. No one is identified until the end of the film--their names are listed at the beginning, but unless you know what, oh, Jacki Ochs looks like, that list doesn't help. There also don't seem to be any interesting breakthroughs here. We aren't really learning anything new or being told anything old in a particularly interesting way. I'm aware that the film was made twenty years ago, but even in 1989, did anyone actually care about John Oates's sex life thirty years earlier? It's not even as though he has anything particularly interesting to say. He's kind of a lump. Only some of these people are worth listening to. Abbie Hoffman, William S. Burroughs, and Allen Ginsberg, of course, but Josh Mostel is also pretty entertaining. However, most of the rest of them were just kind of there. I guess filmmakers Obie Benz and Joshua Waletzky wanted a broad range of people, and they get all the way from a poet to an investment banker, but mostly, it's avant garde performers you've never heard of. Oh, and John Oates. Almost better than the documentary itself is the second disc, which is full of the kinds of movies shown in the film. The first one, involving a coach telling his track team about puberty (and why is it always coaches?--see also "Why Study Industrial Arts?"), at first kind of looks like kiddie porn. The later syphilis one has some pretty entertainingly overwrought music. Interestingly, the word "penicillin" never comes up. But if you missed sex ed in public school, you should see this kind of thing at least once.
Edith Nelson
Heavy Petting Quotes
There are no approved quotes yet for this movie.
Discussion Forum
Discuss Heavy Petting on our Movie forum!