Helter Skelter
(1976)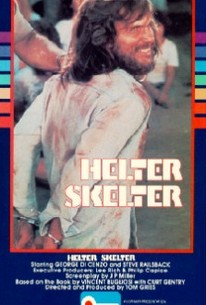 Movie Info
The made-for-television mini-series Helter Skelter is based on the true story of the search for and prosecution of Charles Manson and his "family" after the brutal murder of actress Sharon Tate. Based on the book by prosecutor Vincent Bugliosi, the film is intense, frightening and gripping. Steve Railsback is excellent as the psychotic Manson.
Rating:
NR
Genre:
,
Directed By:
Written By:
In Theaters:
On DVD:
Runtime:
Studio:
Lorimar Productions
News & Interviews for Helter Skelter
Critic Reviews for Helter Skelter
All Critics (11) | Fresh (11) | Rotten (0)
Well-mounted TV-flick biopic.

Its possible value is undermined by TV film values and fake Beatle tracks.

Mountain Xpress (Asheville, NC)
Audience Reviews for Helter Skelter
HELTER SKELTER remains one of the best mini-series ever produced for American television. Astounding.
Michael Lupetin
Helter Skelter, THE best television drama I have EVER seen. I very much ENCOURAGE you to see this film via my link. Helter Skelter is a 1976 TV film based on the 1974 book by prosecutor Vincent Bugliosi and Curt Gentry. In the United States, it aired over two nights. The motive of the killers is shrouded in cult worship, namely worship of a Jesus/Hitler wannabe named Charles Manson. Why Roman Polanski, famous movie director was above suspicion (he and wife Sharon Tate were not on best terms) escapes me. Los Angelos police disregarded his part in the crime. After the trial of the Charles Manson group, he left the country for good. EDITORIAL: For my part, the district attourney kept having great difficulty establishing motive for the Manson "family". Indeed, their cause was entirely socially driven, not personally driven. Yet Roman Polanski, Tate's newly wed husband, had a great motive. To get rid of Sharon who clashed with his playboy lifestyle. That a bunch of others died in the process as well ... thats just too bad. READ the entire sad episode of Roman and Sharon here plus the details of her murder and the trial of Manson et.al: http://en.wikipedia.org/wiki/Sharon_Tate He was in England at the time (a perfect alibi), just days before his wife and victim Sharon Tate arrived in California at the couples newly leased home. [img]http://t1.gstatic.com/images?q=tbn:ANd9GcTFQr9LItew8nkB7mkByVqBd6jF0PZnlRsV31iIb2mfzC9AT-93[/img] Charles Manson tries to represent himself in trial IF one is to believe the book this is written from, that is, the prosecutor of the case, its pretty damning. The defensive argument is diminished in the film. After a while, the thought occured to me that these kids, mostly 21 to 30 were a victim of their times. Anyone like these so anti-Establishment freaks and vocal about it, were convicted on arrival. It must have been a pretty easy case to prosecute but the film make it appear it was anything but easy. [img]http://t1.gstatic.com/images?q=tbn:ANd9GcSbV02PozC5o4cFXGeOxBuK4TevyvUZsMNrTY_JRLskyiHxlhaXDA[/img] the lead actor was terrific and was hate himself SEE the trailer here: www.youtube.com/watch?v=X_fGrCWnujM The movie is based upon the murders committed by the Charles Manson self-described "Family". The best-known victim was actress Sharon Tate. The title was taken from the Beatles' song of the same name. [img]http://t3.gstatic.com/images?q=tbn:ANd9GcRzzU7i7eJtLVL2vge0fxKnkm3g4EksN4k8Z_Q4i-HAj-EmScTF[/img] A master manipulative person, Manson acts out in court to nullify the prosecution's words to the jury According to the theory put forward by the prosecution, Manson used the term for an anticipated race war, and "helter skelter" was scrawled in blood on the refrigerator door at the house of one of the victims. [img]http://t3.gstatic.com/images?q=tbn:ANd9GcRf3LPlgSR0vLY08xeuVbJGa38BE7V8pwFp-49RzVWyKHYWDV-67w[/img] Convictied on all counts, they shave their heads SEE the entire film here with me: http://www.youtube.com/watch?v=Zj5mwNsBvC0 [img]http://t0.gstatic.com/images?q=tbn:ANd9GcTtFHeF5iALKEicS0B5AtuIcQhH7d8-0Cna8oFbLFB2rpXHLXm2[/img] The prosecutor and narrator of the film, date by date is explained by him in detail 1977 Emmy Awards Nominated, Outstanding Achievement in Music Composition for a Special (Dramatic Underscore) - Billy Goldenberg Nominated, Outstanding Directing in a Special Program - Drama or Comedy - Tom Gries Nominated, Outstanding Film Editing for a Special - Byron Brandt, Bud S. Isaacs Directors Guild of America Nominated, Outstanding Directorial Achievement in Specials/Movies for TV/Actuality - Daniel Petrie[2] Edgar Allan Poe Awards Won, Best Television Feature or Miniseries - J.P. Miller REVIEWS: 90% Based on the original Bugliosi book, and from the perspective of Vincent Bugliosi himself, taking the role as narrator, this film attempts to break do... 100% Helter Skelter, THE best television drama I have EVER seen. I very much ENCOURAGE you to see this film. NOTES: 1 The LaBianca house sequence was filmed at the actual crime scene. Much of the dialogue from the courtroom scenes was taken from the court transcripts. The 1959 Ford driven by Linda Kasabian on both nights of murder was loaned to the producers by the Los Angeles Police Department CBS television (2 night airing) Original run April 1, 1976 - April 2, 1976 Running time 194 minutes Starring George DiCenzo Steve Railsback Nancy Wolfe Marilyn Burns Christina Hart Cathey Paine Alan Oppenheimer Read Morgan [img]http://t2.gstatic.com/images?q=tbn:ANd9GcRnEpZ6ZIa5bIYv9yfs6v08odpOTPxsEuu7YGPGTzq2aylJjGuGCw[/img] The entire group convicted to death row but California later abolished death row to life imprisonment\
monsieur rick
½
Great telling of the Manson Murders. Steve Railsback's performance as Manson is unforgettable. Make sure to see the 184 min cut and not the choppy 119 min cut.
Anthony Valletta
Super Reviewer
Helter Skelter Quotes
There are no approved quotes yet for this movie.
Discussion Forum
Discuss Helter Skelter on our Movie forum!