The Hills Have Eyes
(1977)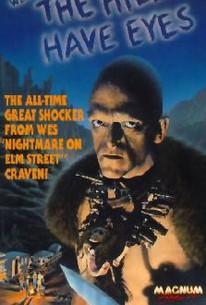 The Hills Have Eyes Videos
The Hills Have Eyes Photos
Movie Info
Horror auteur Wes Craven followed his threadbare but horrifically compelling cult classic Last House on the Left with this wonderfully demented morality fable about a bloody war of attrition between two extremely different families. The story opens on the journey of the Carters, a mildly dysfunctional extended family led by patriarch "Big Bob" Carter (Russ Grieve), as they travel across the California desert in search of an inherited silver mine. When a broken axle leaves them stranded in the middle of a former nuclear testing site, their attempts to find help lead them unwittingly into the territory of a savage family of cave-dwelling cannibals, the apparent progeny of the bearlike Jupiter (James Whitworth) and an abducted prostitute. Jupiter's eldest son Pluto (professional movie weirdo Michael Berryman) leads the first brutal attack on the defenseless Carters who, through necessity, are driven to equally extreme measures in order to survive. Though the film is not overtly bloody, the scenes depicting this confrontation are rendered with an unflinching directness, and the violations visited on the Carters are so brutal as to make the survivors' regression into savagery all the more convincing. No one is spared from the nightmare: Jupiter's boys have even kidnapped the youngest member of the Carter family -- a mere infant -- to serve as fodder for their next barbecue, and the baby becomes the main point of contention between the rival clans. Craven nevertheless refuses to take the easy way out by depicting his "monsters" as soullessly evil; parallels between either family's "values" are clearly drawn as the differences between the two clans begin to blur.
Rating:
R
Genre:
,
Directed By:
Written By:
In Theaters:
On DVD:
Runtime:
Studio:
Laser Media
Cast
News & Interviews for The Hills Have Eyes
Critic Reviews for The Hills Have Eyes
Audience Reviews for The Hills Have Eyes
½
Normally it would be considered treason to remake a 70's "classic" from Wes Craven. In the case of 'The Hills Have Eyes' though, the original is painfully inert and while the runtime is relatively short, the film shambles at a plodding pace. This is a prime example of an underspiced premise that should be plowed further. The transition from day to night is practically instantaneous. The family of soon-to-be-cannibalized victims range from dimwitted (Bobby is deliberately reticent to inform the others that their canine Beauty has been disemboweled and he won't divulge how he bruised his cheek) to hopelessly naïve (the mother mispronounces "may paw" as a distress call into the radio). As for the inbred hooligans at the center, they look like rejects from 'One Million Years B.C.' with tattered loincloths and Hall-and-Oates bouffant hairstyles. Mama could be a Native-American oracle with the beads around her scalp. In other words, it's Motley Crew tribute band and they are never once frighteningly feral. Even the bald Michael Berryman is more clueless and innocuous than volatile. Just because there is a shameless child-in-danger subplot doesn't mean the audience will be manipulated into paroxysmal terror. It's absolutely mystifying why this calamity is so highly praised among the horror elite.
Cory Taylor
Super Reviewer
½
Wes Craven's cult classic reeks of lost potential, and it's due to one factor: the actors are unable to sell the gut-wrenching, truly dreadful moments. The happenings of this plot are the types that make me tear up and wonder if hope is just a stupid distraction in this cruel world. What I really ended up thinking was "OH YEAH, YOU GO DOGGY, YOU BITE THAT ANKLE, SUCK IT CANNIBAL MAN, HAHAHA"
Kevin Cookman
Super Reviewer
½
I'll just say right from the start that I am (somewhat) inflating my grade here. I know this film isn't that great, but there's enough stuff here that I liked that I feel warrants a recommendation, especially for genre fans, and those who enjoy old school low budget exploitation schlock. The plot is a typical one: all American family on a road trip out to an inherited silver mine in the desert is assaulted by a family of vicious mutants. It's basically a war of one family against another where the audience is challenged to decide which family ends up being more monstrous than the other given how the fight progresses. That's pretty much it. No real backstory, no real reason for the initial attack, but hey, sometimes more mystery is definitely better, and far scarier. In the case of this film, I think backstory might have helped things. This is Craven's follow up to his landmark debut, and this is once again a gritty and raw horror thriller. Yes, the acting and effects aren't great, but the limitations add to the intensity of the situation. Plus, the music and locales are just downright creepy. The pacing is quite uneven, but once things get going, this is quite a ride. I also have to give props to a film that has one of the most awesome movie dogs ever, as well as a guy being crucified on (of all things) a cactus. Look, the film's a mess and I admitted I'm being kind, but think of it as a necessary stepping stone in the evolution of horror cinema and it's easier to appreciate.
Chris Weber
Super Reviewer
Discussion Forum
Discuss The Hills Have Eyes on our Movie forum!
News & Features