100 Feet
(2008)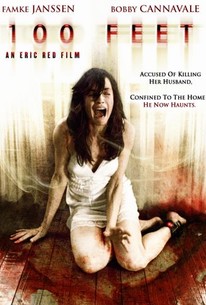 AUDIENCE SCORE
Critic Consensus: No consensus yet.
Movie Info
When a woman serving time for the murder of her husband is granted early release on the condition that she remains under house arrest for the remainder of her sentence, her past strikes back with a supernatural vengeance in this thriller from director Eric Red (Undertow and Bad Moon). Marnie Watson (Famke Jansen) was suffering under the brutal hand of her husband Mike (Michael Pare) - a violent New York City cop - when she struck back in self-defense. In the aftermath of that tragedy, Mike was dead and Marnie convicted of manslaughter. Now released from prison and outfitted with an electronic ankle bracelet the will alert authorities to her location at all times, Marnie is given strict orders to remain in her house until her sentence is served in full. As Marnie begins to serve her time, her late husband's partner observes from a patrol car parked across the street - eager for the moment she violates her probation and he can lock her up for good. But there's something else in the house with Marnie, and now the woman who thought her nightmare was finally over is about to discover that it's only just begun. Marnie's husband is just as evil in death as he was in life, and he's determined to strike back at the woman who killed him with savage ferocity.
Critic Reviews for 100 Feet
Audience Reviews for 100 Feet
This film was shown at Screamfest 2008. One of the best horror films I have seen in a long time. Famke Janssen is over the top as a cop killer (her Husband) who is under house arrest. And he has come back for more revenge. Just over all excellent scary movie. Especially for you ladies living alone. 5 Stars.
Bruce Bruce
Super Reviewer
You got 9 lives what do you care...
The first appearance of the ghost Mike Watson (Michael Pare) made me jumped. Can you beat a ghost with a baseball bat? I laughed when Marnie Watson (Famke Janssen) was doing that. I thought ghosts were transparent. And how come people are making love when there is a ghost in a house? Yes, yes I forgot this is a Hollywood movie where you can't call it a movie unless there are some sex scenes in it. No matter how crap the movie is, people will still like some parts like that (well it's the concept of the film industry I guess). And the ending was pretty horrible.
Dead Angel
Super Reviewer
Slightly above average ghost story that other than one rather painfully gory scene could probably pass for a Lifetime Channel movie. Disappointing coming from Eric Red who gave us Near Dark, the original The Hitcher and Body Parts but it's still more entertaining than that J-horror remake stuff.
A.D. Villarreal
Super Reviewer
100 Feet Quotes
There are no approved quotes yet for this movie.