100 Voices: A Journey Home
(2010)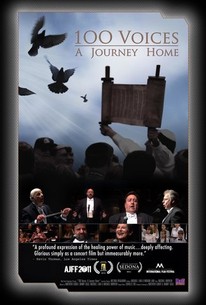 100 Voices: A Journey Home Videos
100 Voices: A Journey Home Photos
Movie Info
Co-directors Danny Gold and Matthew Asner team with composer Charles Fox for this musical exploration of Jewish culture in Poland.
Rating:
PG
Genre:
, , , ,
Directed By:
In Theaters:
Runtime:
Studio:
Critic Reviews for 100 Voices: A Journey Home
Audience Reviews for 100 Voices: A Journey Home
½
A review by author Talia Carner With abundance of entertainment offerings in NYC, I had to be coaxed to give up a Broadway show in order to attend ?100 Voices.? Who wants to listen to 100 cantors?and right on the heels of Rosh Hashanah and Yom Kippur, where I had been cantored-out? The opening of the event was surprisingly secular, presenting a group of a dozen cantors at what seemed to be a side auditorium in the Getty Center in LA, each in turn singing a magnificent Broadway song?from West Side Story, Les Miserable, etc. Each was such an accomplished top singer that any doubt I had nursed evaporated. I forgot that these superb performers were cantors (if not for the careless fashion and grooming by the female cantoresses. They are performers and should treat themselves to major overhauls. It is not a badge of honor or modesty to forgo the hair-color touch, medical skin care, and evening fashion wear.) The main body of the documentary was the 100 cantors? trip to Warsaw to perform in the Opera House and to visit Auschwitz. With a closer look at some of the cantors? family backgrounds during the holocaust, the audience followed roots-trips into long-destroyed former Jewish villages. Each such journey was heart-wrenching. Over the years my pain over the holocaust and its meaning has grown to the point that I cannot handle it in public places. Yet the cantorial singing accompanying the images on the screen?some rare footage of the parents was available?was both mournful and an affirmation of life, of survival, of triumph. The documentary makes a great attempt to demonstrate that Poland and the Polish people are trying to make amends. They, too, had suffered great losses in WWII. Over 6,500 Polish were Righteous Gentiles (saving Jews). ?Poland?s culture is intertwined with Jewish culture, and they know it.? The main cantorial performance in the Opera House is taken as the ultimate Polish gesture of goodwill and repentance. In Warsaw, a yearly festival of cantorial music is performed in a city square, attended by literary thousands of Jews and non-Jews. But a visit to the villages where there are no monuments or the lone stone is so out of sight in the middle of a forest?and especially the neglected, overgrown and almost-disappearing cemeteries whose tombstones had long been looted?prove that on the local level, the Poles are tired of giving tribute or caring about the past. And that too, is a lesson. I came out of the theater with a new sense of appreciation for cantorial singing, as well as an understanding my mother?s enjoyment of cantorial music on our old Victrola so many years ago. Novelist Talia Carner?s next book, JERUSALEM MAIDEN, will be published by HarperCollins in June 2011. Please check www.TaliaCarner.com
Talia Carner
100 Voices: A Journey Home Quotes
There are no approved quotes yet for this movie.