100 Years of Horror
(1996)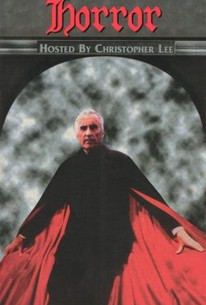 AUDIENCE SCORE
Critic Consensus: No consensus yet.
Movie Info
Condensed from the 13-episode series directed by Ted Newsom and hosted by horror movie star Christopher Lee, 100 Years of Horror, the two-hour version, is a celebratory overview of the Hollywood horror genre, rich with film clips from horror movies throughout most of the 20th century. Stars getting screen time here include old masters Boris Karloff, Bela Lugosi, and Claude Rains, as well as The Omega Man himself, Charlton Heston, Halloween babysitter Jamie Lee Curtis, and horror dabblers Robert De Niro and Kenneth Branagh. The program includes interviews with directors Roger Corman, Joe Dante, John Carpenter, and Herschell G. Lewis, and with actors (host) Christopher Lee, Peter Cushing, and Claude Rains. Highlights include outtakes from the surprisingly effective Abbot & Costello Meet Frankenstein (1948) and from the 1960 version of The Lost World.
Cast
Critic Reviews for 100 Years of Horror
There are no critic reviews yet for 100 Years of Horror. Keep checking Rotten Tomatoes for updates!
Audience Reviews for 100 Years of Horror
½
A rather dull documentary hosted by Evil Sender (Christopher Lee, to the uninitiated). Too many lengthy interviews that caused it to drag. Would have liked clips from more films, rather than the select few they seemed to pull from.
D M
Although the DVD was released in 2006, it's just a transfer of a 1996 VHS collection. It has low-quality footage and sound, and mentions nothing of horror films from the late 90s or early 00s. I wouldn't be surprised if it was originally a filler show from the badlands of basic cable. Besides this, the director seems to have had a bit of a love for classic horror in particular - there is a bit of an elitist slant towards the importance of, say, the first 5 versions of Frankenstein, and less importance placed in groundbreaking modern thrillers such as, say, Alien, just to pull an example out of the air. Probably the most interesting thing in this series is the archival footage that might be hard to find elsewhere. I don't think I found any of the commentary to be very enlightening, though Christopher Lee's rumbling voice and cynical quips were somewhat entertaining.
David Shazbot
100 Years of Horror Quotes
There are no approved quotes yet for this movie.
Discussion Forum
Discuss 100 Years of Horror on our Movie forum!