House of Wax
(1953)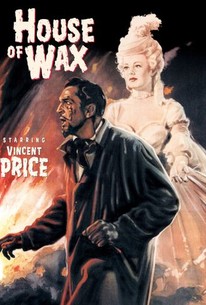 TOMATOMETER
AUDIENCE SCORE
Critic Consensus: House of Wax is a 3-D horror delight that combines the atmospheric eerieness of the wax museum with the always chilling presence of Vincent Price.
Movie Info
Ever been creeped out by the life-like statues at a wax museum? Yes? But have you ever recognized your old roommate behind the glass? Vincent Price plays the menacing Professor Henry Jarrod, in a role that would solidify his reputation as the creepiest man in Hollywood. With everything from cancan girls to rubber paddleballs finding their way into the audience, 'House of Wax' takes full advantage of the novel 3-D stereoscopic process.
Critic Reviews for House of Wax
Audience Reviews for House of Wax
So many things in film production changed after this film was made. Not only that but the way films are distributed, it gave Vincent Price a newfound purpose as a horror movie villain in his first leading role, and this was the first color, 3D film to have its own soundtrack. A lot of the general appeal and lore that surrounds this film had to do with it being the first commercially viable picture to feature 3D, and make a giant deal about it. There are included scenes just for the use of the technology, including a talented man with a yo-yo outside the establishment as it opens, who is there without purpose, but entertains. The premise is based on a melodramatic thirties' film with the same plot. Set in 19th century New York, the film follows a man named Jarrod (Price) who sculpts beautiful wax figures for a museum that isn't doing so well. His friend and fellow investor wants to burn the museum and get a large insurance payout, which he does to Jarrod's horror. In that scene the fire engulfs the figures that Jarrod has longingly described with the sensationalism of a creator, and the sweetness of an artist. He does not die from the fire, and later resurfaces to start another museum. At the same time there's a brutish deformed man running around the city stealing corpses, and terrorizing Sue Allen (Kirk) who witnessed him running from the scene of her roommate's murder. There isn't as much murder, mayhem, and disfigurement as one would expect from a so-called horror film. More apt a description would be to say that this is a murder mystery with a very frightening villain. It has all the appeal of later Vincent Price films, and it's easy to see why this film launched the rest of his career as a horror icon. It also has a very high production value, period sets and clothing, and actual and very well made wax figures. Because it's so well-made there's definitely another layer of appreciation from the audience, and it makes the freakishness of seeing Charles Bronson as a mute henchmen, even more entertaining.
Spencer S.
Super Reviewer
½
House of Wax lives up to its reputation as one of Vincent Price's finest films. The film can also be a contender for an early giallo film story-wise. It seems to have been more of a mainstream success than most horror movies at the time and I'm not quite sure why, although I suspect Vincent Price's presence had a lot to do with it. The supporting cast does a fine job in their roles, and the actual idea of *SPOILER ALERT* keeping mannequins as wax dummies is very creepy all on its own. I think it's just a combination of things and everything falling into place perfectly to make a great little horror film. It's more about the character than the horror, which is part of what I like about it, and it's also a prelude to what Vincent Price would later do with his character in The Abominable Dr. Phibes. Not that that was seen in his future at the time, but if you've seen both films you cannot miss the similarities. It may be slightly dated, and the remake may have tarnished it slightly and made it seem more conventional than it really is, but it holds up quite well.
Tim Salmons
Super Reviewer
Such an enjoyable and interesting film which kept me gripped and involved as I tried to figure out the twists and turns as they happened on screen. A brilliant cast which really does the characters justice, especially Price, Gray and Picerni. Definitely watch again.
Sophie Burgess
Super Reviewer
House of Wax Quotes
| | |
| --- | --- |
| Prof. Henry Jarrod: | My creations have some merit, I suspect. But in bringing back to life the lovely Marie Antoinette I have done my best work. |
| Sidney Wallace: | Ohhhh, I've never seen anything so exquisite. |
| Prof. Henry Jarrod: | People say that they can see my Marie Antoinette breathe; that her breast rises and falls. Look at her eyes, they follow you wherever you go. She's very real to me. |
| | |
| --- | --- |
| Prof. Henry Jarrod: | It's not easy to shut an actor's mouth. |
| | |
| --- | --- |
| Matthew Burke: | The insurance company insisted upon proof of my partner's death. |
| Cathy Gray: | Yes, [giggles] they always want a corpse. |
| Cathy Gray: | Yes. They always want a corpse. |
| | |
| --- | --- |
| Matthew Burke: | No matter how much we loose you must still go on living. |