Jesus
(1979)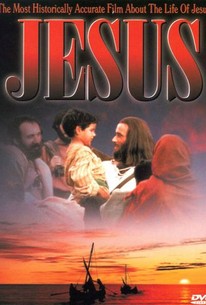 AUDIENCE SCORE
Critic Consensus: No consensus yet.
Movie Info
Though filmed in Israel using a predominantly Israeli cast, this portrait of the life and times of Christ is not among the best. Much of the dialogue was derived from the Good News Bible.
Rating:
G
Genre:
, ,
Directed By:
Written By:
On DVD:
Runtime:
Studio:
WARNER BROTHERS PICTURES
Critic Reviews for Jesus
All Critics (2) | Fresh (0) | Rotten (2) | DVD (1)
New York Times
Top Critic

The evangelical video has an intended widespread audience, but its paint by the numbers presentation falls flat and flops with people outside the mainstream.

Audience Reviews for Jesus
½
(Just a note I have the edition that is only 89 minutes long, assumabley the kids version, but the box does not say) Jesus is an awesome film which I have been greatley inspired by. I am Christian just to get that part out of the way and I think it greatley depicts Jesus life as he lives, teaches, dies, and then is resurected. The acting was so superb, I had to remind myself at only one point that this wasn't Jesus, just a guy in a costume. The supporting cast also did a great job they all truly looked at Brian Deacon (the guy who played Jesus) as though he were the Messiah and it was great seeing how it all rolled out in real life. They followed the Gospel of Luke (just another note) and they do all the main scemes Him being baptized, the woman washing his feet with her tears and her hair, his philosiphies and other things and it was all done extremley well. The setting (which I rarley mention in my reviews) was done very well, from what I understand they filmed in over 200 and it shows sometimes, I felt sucked into the setting because it kept moving and flowing very well. They spoke very well they didn't butcher it like most actors would have, they actually spoke like they were from 2000 years ago and they all spoke flawlesly. The costumes and background acting was also done well nothing seemed artifical it all seemed real and very well done. The one thing that did catch me was the fact that the ending was rather abrupt it caught me off gaurd how fast it ended it's like "I'm the son of God, I do NOT die yo!!! Peace out homes!" they could have done the aftermath a little better but instead they have a small thing at the end (of my version, they have several) of how if you belive you'll have eternal life and a small prayer, which was great but it still seeme rather off. Jesus was a great movie, but if it's goal was to convince me He was the son of God it probablly would have failed. BUT if it's goal was to make me feel like I was one of Jesus's follewers it completley succeeded in that pat, the entire time my eye were glued and I felt as though I was following Him and His teachings and even His words. Even if you don't belive Jesus is the son of God this is a great film and I would watch it almost any day. My recomendation? Buy it. Nine Last Suppers out of ten.
James Bowman
Discussion Forum
Discuss Jesus on our Movie forum!