Joshua
(1976)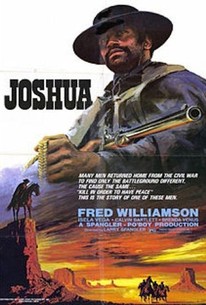 AUDIENCE SCORE
Critic Consensus: No consensus yet.
Movie Info
In this post-Civil War Western, Fred Williamson stars as a vigilante on the hunt for the men who killed his mother. First titled The Black Rider.
Rating:
R
Genre:
,
Directed By:
Written By:
On DVD:
Runtime:
Studio:
Po' Boy Productions
Critic Reviews for Joshua
All Critics (1) | Fresh (1) | Rotten (0)
...the kind of movie that makes you want to yell at the characters: Can't you see what your crazy kid is doing?!?!

Audience Reviews for Joshua
This is my first review of a Fred Williamson film, but you can rest assured its not the first time I have seen a Fred Williamson Film, because Fred has been involved in over 200 movies, what other Black Actor Can say that. Had a lot of Grind house Stuff. This is a Spaghetti Western whose main Character is Black, Pretty Rare I would say. Joshua returns home from the civil war where he has killed a boat load of people, Coming home to rest and pick up Mama and take her back to his place back east, Mama is working as a cook for a white man and his new mail order bride the very beautiful Brenda Venus. Well 5 riders come down off the mountain and they are invited in for dinner, like we don't know that?s going to be a mistake, well the five shoot dad and take his wife ( the mail order bride) a rape her and shoot Joshua's Mom, before he gets home. Well the 5 ride off and take the mail order bride with them, and within a day or two see seems to enjoy being taken off by the bad guys and being rode hard. Reminds me of a few I've been involved with. Well Joshua picks them off one by one, and this guy Weasel played by Ralph Willingham is about as annoying as one can get, heck I was going to whip out my pistol and shoot him. Joshua is offered the mail order bride in the end and she screams noooooooooooooo! So Bamm she gets hers with the last bad guy as Fred Blows them up with 3 sticks of Dynamite. My copy was from the Mill Creek 20 pack Mean Guns and the copy sucked it was oversized (Sure wasn't modified to fit my screen) Anyway 3 stars nothing more.
Bruce Bruce
Super Reviewer
½
Joshua, (Williamson) returns from fighting in the American Civil War to find his mother murdererd and her employer's wife kidnapped. He sets out in pursuit and to gain revenge. "Joshua" starts out promising, but it quickly degrades into a morass of excessive padding (there's maybe 45-50 minutes of material stretched over two hours) and nonsensical "plot" elements (why does Joshua only kill one of the kidnappers/murderers whenever he catches up with them? Why doesn't he free their abductee early on? What's up with that town of "renegades" Joshua comes across during his pursuit?). To add to the mess, the film is virtually free of character development and the soundtrack music, which starts out sounding really cool, becomes annoying and tedious because a total of five minutes worth of music was written for the film [i]and it seems to be looping non-stop as the film plods toward it's idiotic ending. The only good thing I can say about the film is that the bad guys were the sort of annoying, slimy creeps who you feel wholeheartedly deserved to die. Even this aspect of the film is messed up, however, because the most annoying of the bad guys (Weasel, played by Ralph Willingham) is so annoying that you can't wait to see him die... and then his death happens off-screen and fairly quickly. I'm rating this movie a very low (and very generous) Three, because it did keep me engaged to the end... but I can't recommend watching it unless you've set yourself the goal of seeing every single Fred Williamson movie. Joshua (aka "The Black Rider" and "Vengeance") Starring: Fred Williamson, Cal Bartlett, Brenda Venus, Ralph Willingham, Isela Vega, and Henry Hendrick Director: Larry G. Spangler
Steve Miller
Joshua Quotes
There are no approved quotes yet for this movie.