Joshua
(1976)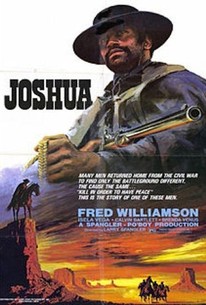 AUDIENCE SCORE
Critic Consensus: No consensus yet.
Movie Info
In this post-Civil War Western, Fred Williamson stars as a vigilante on the hunt for the men who killed his mother. First titled The Black Rider.
Critic Reviews for Joshua
Audience Reviews for Joshua
This is my first review of a Fred Williamson film, but you can rest assured its not the first time I have seen a Fred Williamson Film, because Fred has been involved in over 200 movies, what other Black Actor Can say that. Had a lot of Grind house Stuff. This is a Spaghetti Western whose main Character is Black, Pretty Rare I would say. Joshua returns home from the civil war where he has killed a boat load of people, Coming home to rest and pick up Mama and take her back to his place back east, Mama is working as a cook for a white man and his new mail order bride the very beautiful Brenda Venus. Well 5 riders come down off the mountain and they are invited in for dinner, like we don't know that?s going to be a mistake, well the five shoot dad and take his wife ( the mail order bride) a rape her and shoot Joshua's Mom, before he gets home. Well the 5 ride off and take the mail order bride with them, and within a day or two see seems to enjoy being taken off by the bad guys and being rode hard. Reminds me of a few I've been involved with. Well Joshua picks them off one by one, and this guy Weasel played by Ralph Willingham is about as annoying as one can get, heck I was going to whip out my pistol and shoot him. Joshua is offered the mail order bride in the end and she screams noooooooooooooo! So Bamm she gets hers with the last bad guy as Fred Blows them up with 3 sticks of Dynamite. My copy was from the Mill Creek 20 pack Mean Guns and the copy sucked it was oversized (Sure wasn't modified to fit my screen) Anyway 3 stars nothing more.
Bruce Bruce
Super Reviewer
Joshua Quotes
There are no approved quotes yet for this movie.
Discussion Forum
Discuss Joshua on our Movie forum!