Journey to the Center of the Earth
(1988)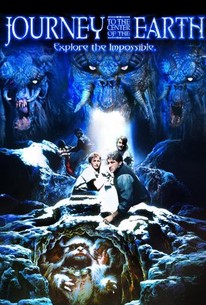 AUDIENCE SCORE
Critic Consensus: No consensus yet.
Movie Info
This is another retelling of the Jules Verne tale about an adventure to the earth's core.
Rating:
PG
Genre:
, ,
Directed By:
Written By:
On DVD:
Runtime:
Studio:
Cannon Group
Cast
Critic Reviews for Journey to the Center of the Earth
All Critics (1) | Fresh (0) | Rotten (1) | DVD (1)

Yes, Kathy Ireland is in this, but a hundred Kathy Ireland clones wouldn't make this watchable.

Audience Reviews for Journey to the Center of the Earth
You can't get more of a convoluted mess than Cannon's version of Journey to the Center of the Earth. One would think from the title that this would be an adaption of Jules Verne's classic science fiction novel. HA! Just remember Cannon, though I love them dearly, can fuck any film up! This "version" of the story is actually has an interesting story behind it because believe it or not it is actually two unfinished films clobbered together. Cannon was going through some financial hell in the late 80's and two films that had already started filming got nixed. The first is of course was Journey to the Center of the Earth and the second was a sequel to their unfunny bomb Alien From L.A.. Cannon was notorious for making some dumbass business deals and they had already made agreements with foreign distributors for release of Journey to the Center of the Earth. Since they had to fulfill their agreement they decided to cut both of their unfinished films together. As you can tell from the interesting history behind this film the results came out completely incoherent! The story starts out in England with a Nanny having trouble with her job. She even admits that she isn't "nanny material" though all she "ever wanted to be wanted to be was a nanny." What a sad childhood she must have had when her biggest dream was to become a nanny! She gets sent over to a client in Hawaii to take care of his dog where she, very sloppily written I might add, ends up with a trio of children going into a cave in an active volcano (don't ask how the story ended up here!). While down in the cave we have some awful dream sequences and about 38 minutes into the film, they finally come to the city of Atlantis, which very few viewers will recognize from Cannon's previous disaster Alien From L.A.. This is when the film really gets bizarre for people who don't know the history behind this mess as from this moment on it is a sequel to Alien From L.A. with many characters returning from that film. Apparently the residents of Atlantis are training soldiers to look and act like Kathy Ireland (the heroin from Alien) so they can have a declare war on the top world! And people wonder why this film is so hated around the world! From what I have read in sources only about 8 minutes of the film is from the footage shot for Journey to the Center of the Earth directed by Rusty Lemorande and a majority of the rest of the film is from footage shot for the sequel to Alien From L.A. directed by Albert Pyun. It's mostly a sequel to Alien From L.A. yet Cannon still had to call it the Journey title to appease distributors! What's even more ironic is Alien From L.A. is a semi-spoof of the story of Journey to the Center of the Earth and now it's sequel IS Journey to the Center of the Earth. Excuse me while my head stops spinning! Like I have mentioned before this film is a MESS. It's two films very sloppily edited together. Cannon showed no mercy as they cut corners around every turn! Cannon even reused music from their other film productions, most notoriously American Ninja 2! They even use footage from The Delta Force. Yes when I think of Jules Verne's Journey to the Center of the Earth I think of DELTA FUCKING FORCE! The film ends abruptly at an hour and ten minutes and the next ten minutes is a montage of footage from the rest of the film which even contains scenes not shown earlier! Cannon even seemed embarrassed by their cut and paste film as their company logo and producer credits aren't even shown! Being a Cannon film fanatic I only bought this film as a curiosity piece. I knew it's sad story but I had to see what a mess it really was. I can say it lived up its dire reputation. I really feel sorry for people renting or buying this thinking it is an actually Jules Verne adaption only to get a shit sequel to Alien From L.A.! I have a feeling Jules Verne's spirit kills a kitten every time someone pops this "adaption" of his classic story into their DVD player.
Eric Reifschneider
Journey to the Center of the Earth (1989) directed by Rusty Lemorande and Albert Pyun written by Debra Ricci, Regina Davis, Kitty Chalmers, Rusty Lemorande starring Ilan Mitchell-Smith, Paul Carafotes, Nicola Cowper, Janet Du Plessis, Jeff Celentano Sadly, the Academy of Motion Pictures Arts and Sciences decided not to award this film in 1990. It's a true tragedy that ranks right up there to the fall of Fatty Arbuckle after he was accused yet acquitted of expressing himself too vividly with a coke bottle. Certainly the first forty three minutes offer hardly a suggestion as to what's to come. We have the creepy kid from "Weird Science" who actually has a name and his name is Ilan Mitchell-Smith. Here he's called Bryan and he riffs on his Wyatt character and essentially grates on the nerves for the entire picture. There's also a beef mountain jerk named Richard (Carafotes) who grumbles and hee-haws and proves himself wholly uncomfortable around women at the beginning. Then we have the sex appeal named Crystina, (Cowper) a hot nanny who stumbles into the situation after a series of misfortunes that are too trite to comment on here. Suffice to say she's a nanny who gets hired to sit for a dog and ends up with the others in a cave far, far away from her native England. Oh yeah, the kid sister. Can't forget her. So, the cave, then. It's a site that is sacred to Richard and it looks as cheap as one would expect in a film of this caliber. The whole film looks like it was put together for a buck fifty eight in a Sears and Robuck Parking Lot. So, anyway, they stumble through the cave and then something terrible happens and they get separated from the little girl and never mention her again. You would think they'd be frantically trying to get to her because she's probably going to die being all alone in a nasty cave like that. Or they probably figured she'd be smart enough to retrace her steps and get back to the beginning but this girl seems like she's a bit daft. Anyway, where's she going to go even if she gets out? She can't drive a car. What if she wanders off and gets kidnapped? They should be doing everything they can to reach her but they don't because she's no longer necessary for the plot. Oh yeah, the plot. What happens in this film all leads nowhere. Brian wanders off and falls into a hole followed by the dog and then Crystina. Guess what's at the end of the slide? Why, it's freaking Atlantis! Just a slide away all this time and somehow the evil Overlord has tricked most everyone to believe that there is no surface world, it's all a myth. This is a fantastic place where even the most trivial infraction is punishable by instant death. It creates a thrilling backdrop to our heroes's stay in this hellish place. Of course there are dissidents and of course their actions if discovered would lead to instant death. Still, the point is that this is a strange and beguiling world that has nothing to do with the first part of the film. There is no way to connect them logically because this part stands alone as a film that deserves to be dissected for its art direction alone. The only thing that comes close to this in terms of draining the last drop out of every penny is "The Forbidden Zone". There is pure lunacy in this film and the characters all possess unique personality quirks that give them an entirely absurdist appeal. I can't say enough about the performance of Janet Du Plessis. She plays both the cool tyrannical General Rykov and the crazed hell-woman Shank who is salvaging when Brian comes down the shoot. Shank is a messianic figure, a totem to big hair and hideous teeth. She proves to help Brian in his quest to avoid the ultimate penalty for threatening the order and disproving the edicts of the Overlord. Du Plessis plays each character with a sharp tenacity that Atlantis is filthy, ugly and filled with servile creatures who are forced to work for Govco, the Government corporation. The sets often look like models; they are cheap and yet achieve a sort of grandeur in their cheapness. Atlantis looks like any other post-apocalyptic underworld except the scale is considerably smaller and the set design doesn't exactly impress upon the audience a feeling of awe or grandeur. Still, for the scope of the film it's effective. This is an exceedingly small film with modest ambitions and subsequently it is not overwhelmed by surface noise it would otherwise be unable to tolerate. The film has moments of legitimate humor. Particularly in the way that all of the death edicts are conveyed so buoyantly by the terrible Overlord and his cronies. Atlantis is supposed to be a dark and dingy place where the citizenry are deliberately kept in darkness about the truth of life outside their proscribed world. The slave camp aesthetic works for this film as it accentuates the ugliness of the place and brings a real sense of shame to the overall dynamics of Atlantis. The performances in this film are all pretty atrocious save Du Plessis and Cowper who lend a level of sophistication to the picture. Every one else either overacts or just doesn't bring anything worth noting to their roles. Mitchell-Smith does nothing to make the audience forget "Weird Science". Du Plessis as mentioned plays rather extravagant characters with a lot of room for miscalculation of nuance but she never falls into that trap. She gives clean performances that resonate throughout the film. Cowper is quite good as the put upon nanny. She has a dynamism that is subdued but always waiting to be unleashed at the proper moment. She elicits a proper Englishwoman, well bred, ordered, somewhat repressed sexually. Emo Philips is in this thing but I watched it three times and couldn't find him. Overall, it's basically two films. The first part is a drab affair where we merely get to know the characters and realize how hideous it feels to be trapped in a cave with them. Well, the woman is hot and she's British so that seems to make things a bit easier. Other than that, though, we want something terrible to happen to these characters but they never really do. The most ludicrous aspect of the film happens when natural light filters through an opening and Richard walks up a short flight up steps to find his parents, little sister and the National Guard waiting for him. Again, he's not at all interested in the plight of his brother, either. And the acting is horrible. It's rather hilarious as well that Atlantis is so close and nobody has ever discovered it despite it being underneath a major city or at least very close to one. Still, this film is entertaining for the second half and the characterizations all possess a certain charm. However, the end is completely ridiculous and does nothing to tie the story up in a way that actually makes sense.
Everett Jensen
This has got to be in the top five WORST movies I have ever seen in my entire life. It is unbelievably bad. Bad acting, bad story, bad ending, bad everything. It ends with a freeze frame, OMG this movie was so bad. Thinking about it hurts.
Marion Ravenwood
Super Reviewer
Discussion Forum
Discuss Journey to the Center of the Earth on our Movie forum!
News & Features