Kansas
(1988)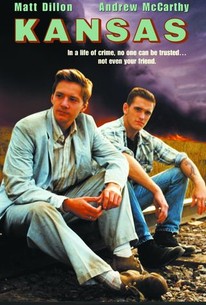 Movie Info
A drifter becomes both a bank robber and a hero in this crime thriller. Andrew McCarthy stars as Wade Corey, who hitches a ride on a freight train already occupied by Doyle Kennedy (Matt Dillon), a charming ex-con who convinces Wade to accompany him to his hometown. Once there, Wade realizes too late that Doyle is intent on robbing the local bank. After they are separated following the crime, Wade hides the money. Happening upon a drowning in progress, he saves a young girl who just happens to be the daughter of the state governor, and he becomes an unlikely hero. Finding work at a nearby farm, the meandering Wade becomes a hired hand, falls for the beautiful daughter (Leslie Hope) of his boss, and dreads the return of Doyle, who is sure to come looking for his money.
Rating:
R (adult situations/language, violence)
Genre:
, ,
Directed By:
In Theaters:
On DVD:
Runtime:
Studio:
Media Home Entertainment
Critic Reviews for Kansas
Audience Reviews for Kansas
This is a very boring movie that seems pretty pointless. The only good thing I can say is Matt Dillon plays a good character you love to hate. I hated him so much throughout the film I just wanted to seem harm done to him.
Alicia S
Someone To Watch Over Me is a crime drama driercted by Ridley Scott starring Tom Berenger, Lorraine Bracco, and Mimi Rogers. It pretty much has your standard plot although Bracco is a treat to watch as the jealous wife of detective Berenger who is protecting Rogers. Kansas is a forgettable story of tow guys who end up robbing a bank. One has a conscious and finds a girl. Stars Andrew McCarthy, Matt Dillon and Leslie Hope. Fresh Horses is a tepid romantic drama starring Molly Ringwald and Andrew McCarthy. Also features very early roles by Ben Stiller And Viggo Mortenson. St. Elmo's Fire is an ensemble piece featuring Demi Moore, Rob Lowe, Andrew McCarthy, Ally Sheedy, Judd Nelson, Emilio Estevez, Mare Winningham and Andie McDowell. Directed by Joel Schumacher. It's a story about a group of friends who recently graduated college and are trying to find there way through the madness that was the eighties. It's not a particularly good film but may interest some because of the cast. Betrayed stars Debra Winger as an FBI agent who infiltrated a white supremacist organization and finds herself falling in love with farmer Tom Berenger who happens to be one of it's leader's. Although the plot is failry predictable I thought the performances were strong enough to make this film work. Berenger, balancing good and evil, is memorable.
Jennifer Allison